I swear, I wasn't trying to test my husband.  I honestly was reconsidering our TOTALLY JOINT MONEY arrangement for Kyle's sake.  My personality as drifted further toward "saver" since I became financially independent from my parents and I've imposed those tendencies on Kyle to a great extent since we got married.  Kyle is a saver as well but he enjoyed buying electronics and making some small impulse purchases before we were married and those purchases have slowed considerably.
In the last few months I've wondered if I've kept too tight a rein on our budget.  We still have a monthly autowithdrawal into our Electronics savings account but it's fairly minor and we've all but eliminated fast food and last-minute-dining from our life.  I've worried that Kyle is lying dormant now, under pressure, but will soon erupt in a frustrated spending spree.
Kyle trained all summer for a part-time position at our church, and this month he finally got his first paycheck.  This past weekend I put together a proposal for what I would like to do with the money: after meeting all of our percentage obligations, we can open up a new savings account just for Kyle and put the remainder of the money there so that he can spend whatever accumulates there however he wants..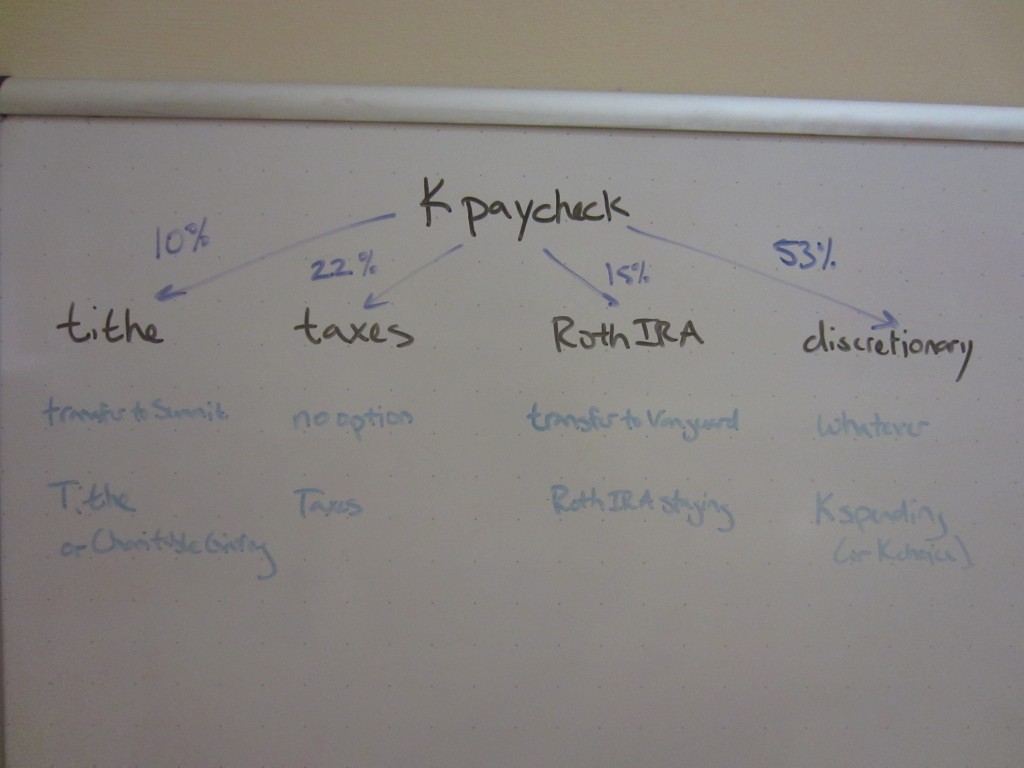 Up until now it has been easy to have totally joint money (all joint accounts, no separate allowances even) as our stipends are nearly identical and we have very similar money personalities.  Cash birthday presents have presented us with challenges to our joint money mindset but nothing like this additional straight-up-time-for-money paycheck.  Kyle has worked really hard to qualify for this job and has to get up super early on the weekends to perform it – shouldn't he get to spend the non-obligated money however he wants?  I don't feel the need to have my own individual money but perhaps Kyle does.
Thankfully, Kyle pulled me back from the brink of the slippery slope of separate money.  An individual savings account for him would have led to his and hers clothing and toys and food separate money and who knows how to stop that train.  Kyle told me "No separate money!  Let's just put it in Electronics."
A man after my own heart.  🙂
Have you ever been tempted to separate part of your money from your spouse?  Does a salary feel different from sidle hustle money?  If you have any separate money, how do you decide what is joint and what is separate?  Has your spouse saved you from making any terrible decisions recently?
Filed under: marriage, side income · Tags: joint money, separate money, side hustle