Kyle finally received the 401(k) plan information from his new employer about 6 weeks after starting work. When he told me the plan offered American funds, my heart sank! The stereotype I have about American funds is that they have loads and high expense ratios. When we looked at the plan documentation, we didn't find any load disclosures (thankfully), but the expense ratios were approximately an order of magnitude higher than what we have in our Vanguard funds. We were also concerned that perhaps the American funds might not be index funds – why would index funds have expense ratios of 1.5%? – because we are passive investors.
(Side note: The expense ratios of the underlying funds offered by the plan were about 0.8%. Kyle looked on the American website at first and wasn't too put off by those expense ratios. But apparently Edward Jones, the plan provider, has a huge markup, because those same funds inside the 401(k) plan had expense ratios of about 1.5%. Is this typical?)
When Kyle accepted this high-paying (to us) job, we assumed we would use his 401(k) plan for retirement savings from his income. For my variable income, we would use our IRAs and maybe increase his 401(k) contributions if needed. I was aware of the possibility of opening a retirement saving plan for my self-employment income, but I didn't look into it very far because we had these other options.
As soon as I saw that we would have to use American funds in the 401(k), I delved into learning about self-employment retirement plans. From reading descriptions of SEPs, individual 401(k)s, and SIMPLE IRAs and taking this quiz, I determined that an individual 401(k) plan would be best for us at this point with my business and contract work.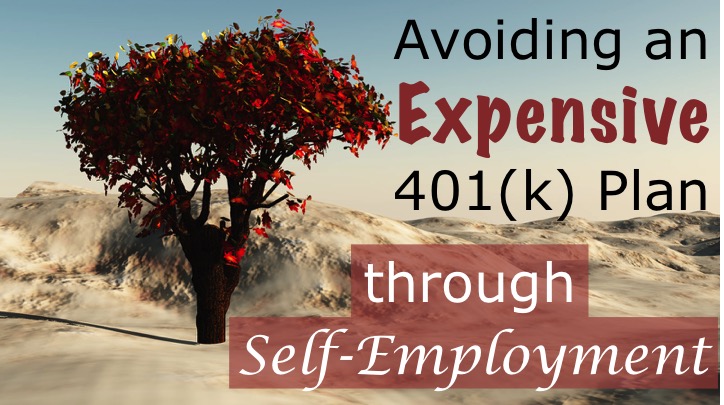 With an individual 401(k) plan, I can maximize my contribution room as a lower earner. The contribution limit in 2015 is $18,000 plus 25% of additional net income up to $53,000. That means that if I earn $18,000 or less (probable for 2015), my contribution limit is 100% of my income. For every dollar that I earn between $18,000 and $158,000, my contribution room increases by 25 cents.
From what I read, I can open an individual 401(k) with Vanguard (where we have our IRAs) for $20 per fund per year. That sounds great to us!
It looks like – unless I start making an enormous amount of money or we want to save a much higher percentage of our gross income than our current goal – we can avoid using Kyle's 401(k) entirely and save all the money we want to between the individual 401(k) and our IRAs. Kyle's employer doesn't offer a 401(k) match so there is no reason to enroll in the plan right now. (If there were a match, we would contribute just enough to maximize the match.) It's a little tricky to determine the contribution limit on an individual 401(k) before the end of the year as my income for the year would be a bit of a moving target, but like IRAs we would be able to contribute to the individual 401(k) up through April 15 of the following year to maximize the contribution room.
If we ever wanted to save more than the contribution room we were sure to have between the individual 401(k) and the IRAs, we could still enroll in the 401(k) plan. It's not horrible enough to forgo the tax-advantaged status, especially because when Kyle moves to his next job we can roll everything into an IRA.
I think I kind of freaked out about the plan because there has been so much in the personal finance news in recent years about fee disclosures for 401(k) plans and employers being sued for not providing properly diversified 401(k) plans. Ric Edelman regularly recommends that people point out sub-par 401(k) plans to their employers and advocate for change, but I'm not sure if this plan is bad enough to go that far. Then again, at a small start-up, Kyle might be able to effect change if a few of his co-workers agree with him.
Are you dissatisfied with your employer's retirement plan? How do your 401(k) expense ratios compare with Edward Jones's or Vanguard's? Do you use a self-employment retirement account? If you could open a retirement account with any brokerage firm, which would you choose?
photo by Joe
Filed under: retirement, self-employment · Tags: 401(k)