You're going to think I'm really dumb when you read this.  You might even want to take away my PF blogger card.  My mistake was a doozy.  I'll just say that I made it several years ago when I was just figuring out my finances and I was a lot less involved than I am now.  And Kyle wasn't around to catch the mistake.
Summer 2007.  I had just graduated from college and started my first full-time job.  I read Get a Financial Life by Beth Kobliner and some other personal finance books and decided that I need to start a Roth IRA and contribute $200/month (10% of my income) to it.  Because I had no money to invest up front, I had to find a company that would let me open an account with no minimum balance and a low monthly contribution.  I settled on Fidelity and opened my account.  (Note: I do not blame Fidelity at all for what happened.  This was my own error entirely.)
I set up an auto-withdrawal for my contributions and kind of stopped thinking about it.  Every few months I would grab the month-end balances from my account.  During the next year I was busy applying to grad school, converting to Christianity, working on my relationship with Kyle, moving out of my parents' house…  I thought I had the retirement stuff on set-and-forget.
Fast-forward to my first semester in grad school in the fall of 2008.  I had been hearing a lot about the stock market and economy tanking and yet my little Excel spreadsheet showed that my IRA account balance had stayed on a linear increase, just barely ahead of what I had invested.  I wondered on my personal blog why I hadn't lost money with everyone else.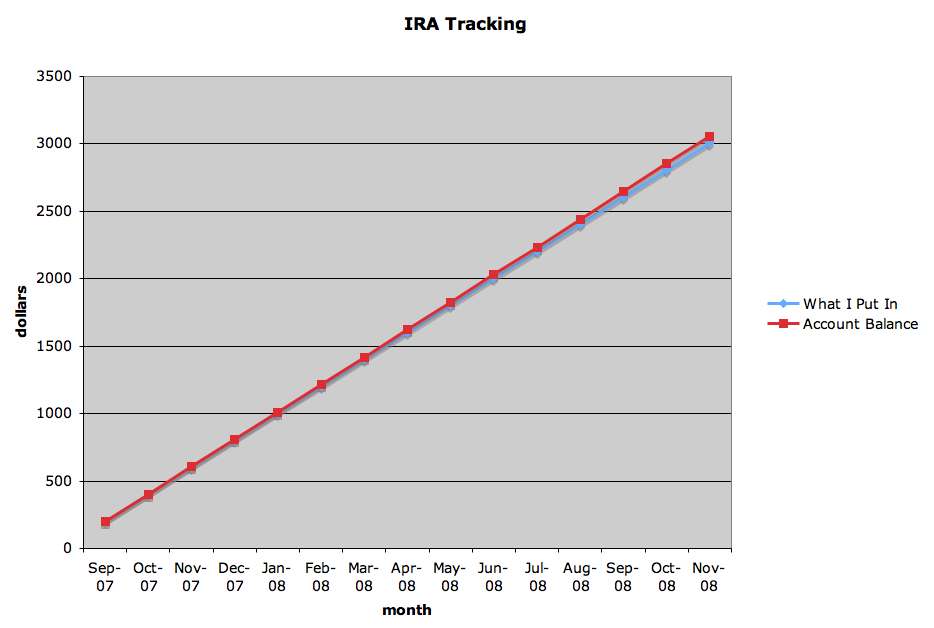 Anyone catch my mistake?  Anyone?  I HAD "INVESTED" MY IRA IN CASH.  The only thing I'll say to my credit in this whole situation was that I did figure out myself what I had done – no one pointed it out to me.
Because I discovered this mistake over a year after I made it, I really can't say what I was thinking when I set up the account.  Apparently I didn't realize that I hadn't actually indicated a mutual fund to buy shares of.  Because I was unfamiliar with the fluctuations of the market and I was only looking at my balances every few months (upon PF book advice) it took me quite a while to realize something was wrong.  If the economic downturn hadn't been so extreme and penetrated my grad school bubble, who knows how long this could have gone on for.
I finally corrected my mistake in January 2009.  You can see in my chart above that I had just crossed a $3000 balance, which meant that I had enough money to meet the Vanguard IRA minimums.  I was so embarrassed by my lack of knowledge/common sense/observation skills at Fidelity that I wanted to get away from the company entirely!  In January 2009 I put my $3000 in a Roth IRA at Vanguard that invested in the 2050 Target Date Retirement Fund and set up my auto-withdrawals to go there.  That's where my IRA has been ever since.
Why am I glad I made this heinous error of keeping my IRA in cash for over a year?  Because of the year that it happened.  When I finally got into the market it was very near its absolute trough for this period.  I lost money in my first two months with Vanguard and have had mostly gaining-months since then (except last summer, of course!).  My quick estimate how much money I didn't lose by staying out during September 2007 – December 2008 is in the neighborhood of a quarter of my the ending balance.
Moral of the story: Pay attention to what funds you're in and (non-obsessively) keep an eye on the balances in comparison with how the market generally is doing, assuming you're largely in stocks.  If you wonder about anything, investigate!
Have you made any really huge financial errors when you probably should have know better?  Have you found any silver linings? 
Filed under: featured, investing, mistakes, retirement, stock market · Tags: cash, embarrassment, errors, ignorance, IRAs