As wedding season 2012 has been heating up, I've seen more and more PF-blogger-brides (yet to see a groom) discuss their wedding budgets or various aspects of planning.  It's caused me to reflect on our wedding from 2010, which was not at all an inexpensive undertaking.  To this day I don't know how much money was spent on our wedding because some costs have not been disclosed to us by our parents and some small items may have slipped through the cracks of our tracking.  The total cost was in "average American wedding" territory for 120 guests at each of two receptions.  We had a ceremony and reception in Durham, NC and a second reception two weeks later in Brea, CA.
I'm not trying to showcase our wedding as especially frugal or DIY by any means, but some choices we made were quite cost-saving.  We didn't choose any of these options because they were cheaper but they did end up saving us a lot of money over the more conventional choices.  I've created this list just to give a few ideas about how things might be done.  I'm not saying these are the least expensive alternatives, but they worked well in our situation.
1)  Receptions at a Public Building and Home
Our North Carolina reception was held in the North Carolina Museum of Natural Sciences.  This wasn't the lowest-cost venue we looked at, but it was the most fun (dinosaurs!).  For two floors and security guard for four evening hours we paid about $1,800.  We were also able to book a pretty low-cost caterer from their list of approved caterers, unlike the other venues we looked at that would have locked us in to higher-cost caterers.  I encourage brides and grooms to look into public spaces and buildings that don't normally host wedding receptions when searching for venues.  The museum we booked hosts business receptions often but not as many weddings, so I think the price was protected somewhat from the wedding industry inflation.  Also, we like that we can visit the site of our reception at any time!  Because it's a public building with free admission we can physically revisit the space where we created our memories whenever we want.
We shopped around for reception venues in California, but ultimately we couldn't find anything we really liked.  Kyle's parents had just moved to a new house in Brea that had a wonderful layout for entertaining and I convinced them to let us hold our second reception there.  The cost was essentially nothing to hold the reception there as we just had to rent tables and get it catered the same as anywhere else (except we had total freedom in our choice of caterer).  The house and yard were not large by any means but we carefully mapped the space to fit everyone and it worked out very well!  I definitely encourage those hosting receptions in locations with family to consider having a reception at a home.  It's gives a wonderfully warm and personal touch to the occasion.  We were even able to set up a kids' room inside with a Wii and other games so that the little children could keep themselves entertained (supervised by a babysitter).
2)  DIY Entertainment – No DJ or Band Needed
Music and dancing were not a big area of emphasis for our wedding.  While we really enjoy dancing at other people's receptions, it's not a major pastime and Kyle's family's rather "traditional" religious beliefs preclude unmarried opposite-sex dancing.  So we had a small dance floor available for our NC reception and none for our CA reception.  Instead of spending thousands of dollars on a DJ or band, we arranged for a few other types of entertainment.
NC venue: Did I mention the reception was in a museum?  About half the museum was available to our guests to explore.  We got tons of compliments on our choice of venue. Many of our friends are scientists so they though it was fun and our parents' friends were amused.  One of my older relatives told me he often gets bored at wedding receptions but this time he was able to explore some exhibits and learn something new.  That was the whole idea!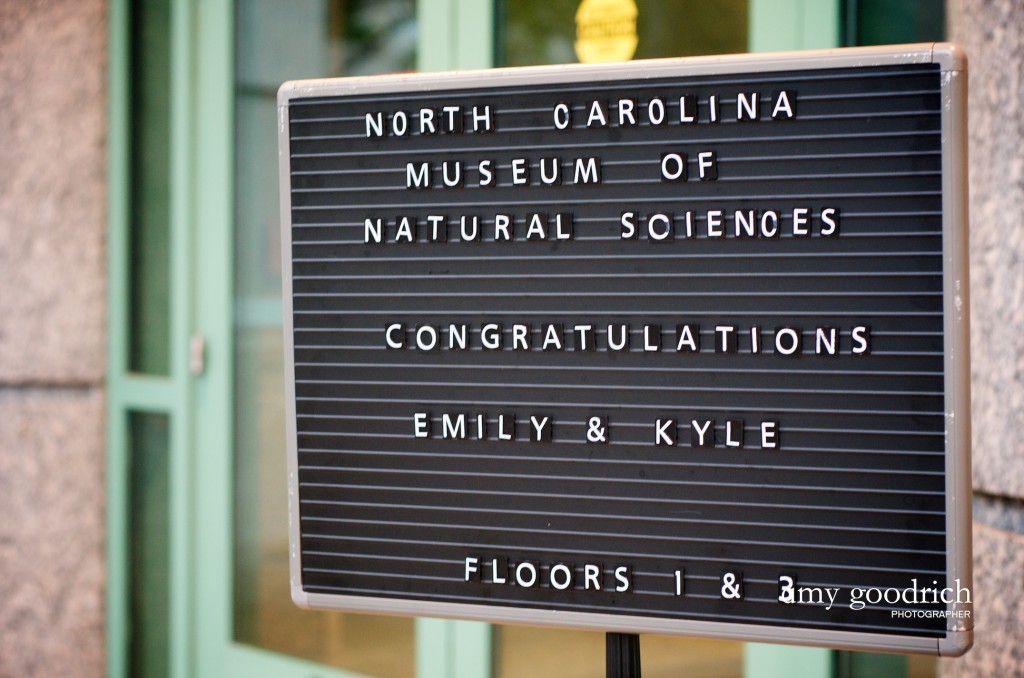 NC music: Totally DIY.  We borrowed a sound system from a friend who had a band and created a playlist of our favorite music.  We asked a friend to get to the reception early to do a soundcheck.  The music was left to play in that area of the museum and people could go on the laptop there to change to whatever other song available that they liked.
CA shoe game: The highlight of our CA reception was a round of The Shoe Game.  We collected questions from our guests during the first part of the reception, the answer of which had to be either "Kyle" or "Emily."  Then we were placed back-to-back and had to independently answer the question by holding up one of Kyle's shoes or one of my shoes.  Everyone got a big kick out of it and again we received compliments for weeks afterwards on how enjoyable that was for our guests.
Some of the questions we were asked:
Who has the wackier family?
Who knows pi out to more digits?
Who is going to change the diapers?
Who is secretly a [basketball rival] fan?
3)  Dry As a Bone
We did not serve any alcohol at either of our receptions.  We had five reasons for that choice, the primary one being that we don't typically socialize with alcohol, so why should our wedding be any different?  An awesome side effect was that our food and beverage expenditures were far less than they would have been even if we had only served beer and wine.  It took a lot of convincing to get my family on board with a dry reception, but in the end they were happy with how it turned out.  We included an FAQ page on our website that clearly stated there would not be alcohol served or allowed at either reception, so hopefully it didn't shock anyone.  A quick estimate of how much and open bar would have run us (from here) is $1,800 for each reception.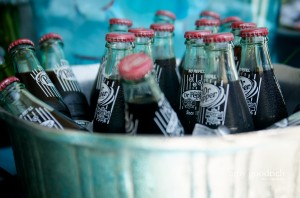 4)  Homemade Cake
The sole decision I made about our wedding before actually entering the planning stage was that I wanted to serve my aunt's famous carrot cake.  I grew up eating this delectable carrot cake with cream cheese icing; it was my absolute favorite and I wanted all my friends and relatives to be able to taste it at our wedding.  We calculated we'd need about seven sheet cakes to serve all our NC guests.  My aunt, my mother, and Kyle's mother each made a couple and another friend or two made one.  They all donated their time and the cost of the ingredients (obviously quite minimal).  End result: way more delicious than any professionally baked cake, both objectively and because it was "made with love."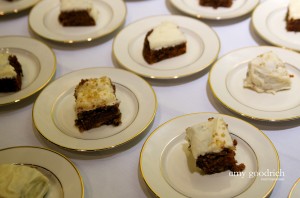 We wanted to have a tiered wedding cake for our NC reception as well though, to have something to cut.  One of our friends who actually was interested in getting into the wedding cake business offered to bake and assemble one as a gift for us.  We asked another friend who we knew was a decorating enthusiast to work together with the baker to create a small, lovely tiered cake.  We went through a couple rounds of testing so it took some legwork from all of us to get a great result, but that's no difficult task when you get to eat the test product!  We paid them for the ingredients only so it only cost us a few tens of dollars for an amazing, personal, and fun result!  Between the display cake (totally edible) and the sheet cakes, if we had gone the professional route it would have cost us about $840 (from these estimates).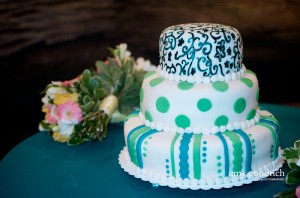 Kyle's cousin is actually a professional cake baker/decorator, so it was an easy choice to use her for our CA reception cake.  Another delicious and gorgeous result!  I think this was also quite a bit less expensive than a typical wedding industry cake because his cousin works out of her home.  This was quite an easy process since we just looked through her portfolio of work and told her the aspects of various cakes that we wanted to combine into ours.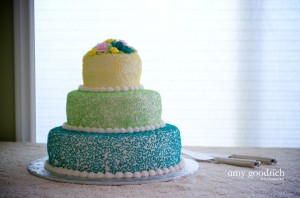 5)  Keeping the Party Going
I'm not sure how many weddings have after-parties, but it seemed like we were able to arrange for several more hours spent with our friends for a tiny fraction of the cost of the overall wedding.
We had a Sunday lunch for our out-of-town guests after our NC wedding.  We ordered take-out from our favorite Thai restaurant and had a bunch of people over to our apartment complex's pool and grill area.  We played some games and hung out.  It was much more relaxed than the day before and really felt like quality time with our friends.  The only negative part was that we ordered way too much food and we had to throw a lot of it away because we left for our honeymoon the next morning.

During our CA lunch reception we asked all of our college friends to hang around after the reception wound down so we could spend more focused time with them.  They were all able to stay, some for about six more hours!  We played games and looked at photos of the ceremony and again had great quality time.  For dinner we ate the leftover food from the reception so there was absolutely no additional cost incurred.  This was a great bonus of having the reception at Kyle's parents' house.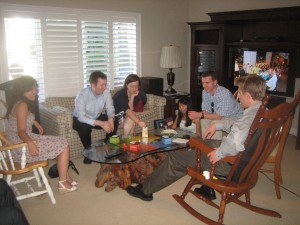 So there you have it!  Five aspects of our wedding that provided great value at a (comparatively) low cost.  We didn't do everything perfectly and overall it was quite an expensive affair but we were very glad to celebrate the start of our marriage with so many family and friends.  I would love to hear your great ideas as well!
What frugal and creative ideas did you employ for your wedding?
the majority of the photos were taken by our lovely and talented wedding photographer, Amy Goodrich
Filed under: budgeting, choices, featured, luxuries, marriage, spending, values · Tags: DIY DJ, dry wedding, museum, the shoe game, wedding reception