… It's the big enemy I'm watching out for!
Investopedia gives us a succinct answer.  Lifesyle creep is
A situation where people's lifestyle or standard of living improves as their discretionary income rises either through an increase in income or decrease in costs. As lifestyle creep occurs, and more money is spent on lifestyle, former luxuries are now considered necessities.
My husband and I have remarked to one another many times that we are happy with our current standard of living.  We tithe, save for retirement, live in a nice two-bedroom apartment, own two cars, cook a lot, have season tickets to sporting and cultural events, travel often, and spend our leisure time on our preferred activities (him: video/computer games; me: reading).  While it certainly would be nice to be able to eat out or buy new clothes more often, we are satisfied.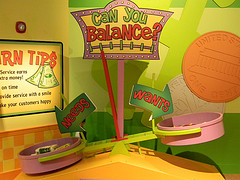 However, we have reasonable anticipation that our incomes will jump in the next few years when we graduate and start, as we like to call them, "real jobs."  I don't want our standard of living to automatically jump with those income rises.  I saw friends get over their heads with their first "real jobs" after college – buying a new car, jumping into real estate, eating out for every meal – and I don't want to follow the same path.  I want the standard-of-living increases that I'm sure we'll experience to be the result of deliberate and thoughtful choice, not unconscious creep.  And should we get into a situation where we need to cut back on spending, such as job loss/resignation, I want us to know precisely the difference between necessities and luxuries.  That is my ideal, at any rate.
Have you become conscious of lifestyle creep in your present or retrospectively?  Do you think it's important to fight it?
photo by eric731
Filed under: lifestyle creep