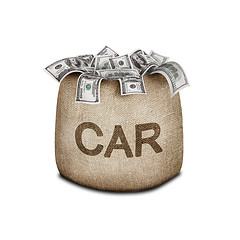 We have decided to become a one-car family!  If you remember, three weeks ago my car wouldn't start and we found out it needed $1,600 in repairs.  We paid $400 to get it running and evaluated the possibility of relying completely on Kyle's car until we start working at different places.  (We don't want to sell the car because it still has a lot of miles left in it.  Kyle will graduate in a year-ish and will likely move on to another institution, at which time we'll probably need two cars again.)  We carpooled everywhere for three weeks and looked into all of the implications of no longer driving the car.  In this post I'll share our thoughts on this process.
Our Starting Point
We own two sedans and have two parking permits for work.  There is plenty of parking at our apartment complex.  We carry a lot of car insurance.  Although we work in the same place, we usually drive separately because of 1) our shifted sleep schedules (Kyle typically goes to work 1-2 hours later than I do) and 2) our differing after-work activities.  However, in the last few months our activities have shifted up a bit so that a window opened for us to be able to share one car.
In the process of this examination of my car, I realized that my registration expired quite a while and I haven't paid property taxes in two years.  It seems that in the process of changing my name and moving to Kyle's apartment, the DMV registration department didn't get my updated address, so I hadn't received any mail from them and apparently without that prompting I'm not a responsible adult.  (Note for newlyweds, at least in NC: Just because you change your name and address on your license does not mean that it is changed on your registration!  You have to contact both departments.)  I've been driving around with expired registration for several months but thankfully I was never pulled over!  So I was dreading calling the DMV – I figured they would yell at me and hit me with back taxes and fines.
We wanted to predict the amount of money we would save by not driving my car as well as evaluate the intangible implications of letting it sit for a year and relying on only one car.
Car Insurance
Our insurance agent told us that the car can be added or removed from our policy instantaneously.  Our premium payments should drop from $540 every six months to about $380, and we'll receive a pro-rated refund for this period.  Our agent warned that the DMV would throw up some roadblocks by requiring me to return my plates and that our apartment complex might not allow plateless cars to be parked long-term on its property.  (Note that we do not have any leins against the car – if we did, we wouldn't be able to remove the insurance entirely.)
DMV 
I waited 30 minutes on hold to have a 3 minute conversation with a representative of the NC DMV.  Everything in that conversation exceeded my expectations so I'm hoping the information was accurate!  (I had heard from some friends that they were charged several hundred dollars for letting their registration expire.)  The representative said that because my registration was already expired, the process for re-registering the car now or in a year would be exactly the same, and that I didn't owe them any fines for letting the registration expire.  I looked up the fees and we can expect to pay:
car inspection $43.60
new plates $28
registration $33
property taxes < $75.03
According to the representative, I won't have to pay back property taxes.  When I re-register the car they will apparently just charge me for the previous 1 year!  When we're ready to re-register the car, we can apparently get temporary tags from the DMV to put on the car while we're getting it repaired, inspected, and registered.  Sounds easy!  Basically, by not registering the car this year we will save paying all those fees once since they will just repeat next year (except the new plates).
Parking Permit
We paid up front for our two yearly parking permits, but now we'll only be using one.  Because we don't want to lose our spots in the parking permit hierarchy (it took us 3 years to get where we are!) we want to rent out our permit, not sell it back to the parking office.  We shouldn't have any trouble finding a first-year to take it off our hands because some of their permits are just terrible!  When the permit is up for renewal in August, we can either decide to continue the rental situation or just renew one of them (Kyle's anticipated graduation date as well as how well the one-car situation is working out will affect this call).  One permit costs $274 per year.
Gas
It's hard to tell how much we'll save on gas by only using Kyle's car.  Right now Kyle usually spends about $80/month and I spend $40/month on gas, so our savings would be between $0 and $40.  I'll estimate $20/month for now.
Non-financial (Intangible) Concerns
What if Kyle's car needs repairs – how will we get around?  I used Google Transit to look up the bus route from our home to campus.  I'm glad I used Google Transit because there are about 6 different bus systems in our metropolitan area.  It turns out that there is a bus that will take us directly from a shopping center near our apartment to the edge of campus – an 11 minute ride plus walking time.  Even better, our university provides us with free bus passes!  If we needed to go somewhere off the bus routes, we could always use WeCar (Zipcar, available on campus), catch a cab, or rent a car.
Can we keep the car at our apartment complex with expired registration?  At first, we were concerned that we would have to turn in our plates (that's what other states do and what our insurance agent told us) but according to the DMV we don't need to.  Our lease states that cars must have up-to-date plates and inspections or they may be towed.  Since the car has already been there for several months with no issues, we plan to just maintain the status quo.  Our apartment complex doesn't seem to care much about the presence of non-functional cars because we have seen one or two around the complex, staying in exactly the same spot for months.
What will happen to the car if it sits for the year?  The internet didn't give me a definitive answer on this, but the general consensus was that the car should be turned on somewhere between once every few days and once per month.  I think once per week we will repark it.
How did the carpooling go these last three weeks?  GREAT!  The first few mornings took some adjusting, but we've had many fewer conflicts than I expected.  We've generally arrived at work between 9:00 and 10:30 AM, which works well for both of us.  I stayed at home during Kyle's small group and band practice, I went to the gym twice during his basketball games, and we did errands together.  We hit a couple snags where we had conflicting needs for the car, but we were able to work them out easily, only having to burn a little bit of time and ask for a ride from a friend once.  I love spending the additional time with Kyle and being forced to coordinate our schedules more.
That's it!  Those are all the issues we considered.  Sharing a car really is only a slight inconvenience, and we have a back-up plan in case we have to temporarily have zero cars.
In all, we expect to save in the neighborhood of $972.03 per year by not driving the car.
gas – estimated $240
insurance – $320
one year's registration, inspection, and property taxes – $138.03
parking permit – $274
Since the remaining repairs will cost $1200 all of those savings need to go toward them, but we will be able to drop the savings rate to our Cars account from what we set it to be for this month (a $120 increase down to about $20/month above what we saved before).  I think nearly a grand a year is worth the very slight inconveniences we've experienced!
How much would you save if you went down to one car?  Have you ever let a car registration lapse?
photo from 401K
Filed under: budgeting, cars, personal · Tags: carpooling, DMV, gas, insurance, one car, repairs