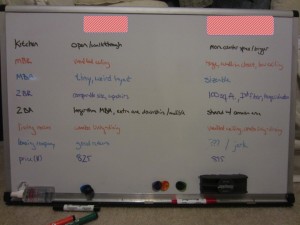 Phew!  We have had a busy week!
We were in Chicago through Wednesday visiting friends and sight-seeing.  I'll put up a post about the expenses we incurred on that vacation as soon as I crunch the numbers and compare them with our estimates.  We were so exhausted that instead of going into the city on our last day we just slept all day – now that's a vacation!
When we got back to Durham we had to get right back to work and finding a new place to live.  We viewed two townhomes and decided on one of them!  We applied for the rental on Friday night and were approved on Saturday.  Unfortunately the property management company will not hold the townhouse for us until the lease and security deposit are signed, sealed, and delivered (???) so we are waiting for them to get back to us on some questions about the lease and then we will get those documents over to them ASAP!
I took a quick trip to the beach with some girls from my program on Saturday while Kyle puttered around, and then in the evening we watched The Adventures of Tintin.  We have a somewhat busy Sunday coming up – I need more of a break!!
Posts I Liked
Erika from From Shopping to Saving posted at Work Save Live all the reasons how she and her parents mismanaged allowing her a credit card when she was a teenager.
Joe Plemon from Christian Personal Finance expanded on five Bible verses that reassure us that everything will work out.
Jason from Frugal Habits listed at Narrow Bridge Finance five truly foolish financial decisions – and I'm guilty of one of them!
Early Financial Freedom posted at My Money Design a few simple rules for achieving early financial freedom.
G.E. Miller from 20 Something Finance explained what Obamacare, now that it has been largely upheld, will mean for various groups of people.
Kraig Mathais from Young, Cheap Living shared many ways money doesn't matter to him.
Mentions
Daisy from When Life Gives You Lemons listed Does Your Class Match Your Income? in her Saturday links.
Top Comment
You can't beat the way Jefferson from See Debt Run began his comment on Vacations: This or That?: "Filling out this survey is making me feel like a princess…"
Most Frequent Commenters
Julia @ Grad Budget
Count Myself a Lucky One
Jefferson @ See Debt Run
Michelle @ Making Sense of Cents
Top Blogs Referring to EPF
Filed under: weekly update