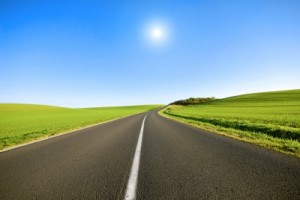 I couldn't have imagined this two years ago but it seems to have arrived: Kyle and I have zero pending wedding invitations!  And not even any engaged friends to whose weddings we are confident we will be invited.
We love attending weddings and especially love attending weddings to which we need to travel because that almost always means we get to see far-flung friends.  We RSVP yes whenever we possibly can and regret all the weddings we haven't been able to attend.
All the love and joy and friendship aside, though, traveling to weddings is a huge drain on our finances.  We were totally slammed with invitations in 2010, the year we got married, and were really caught off guard.  After that summer we started our Travel and Personal Gifts short-term savings account and have been shoving as much money as possible into it since.  Aside from our honeymoon, we haven't chosen a travel destination for ourselves since 2008 – all we've done is attend weddings, visit friends and family, and vacation with family.
But now – but now! – we have money piling up in our Travel account and nowhere to spend it!  Well, that's not quite true.  We have to fund our Christmas travel and gifts and that's going to take more than all the money we're projected to save between now and Jan 1.  But after that… the world is our oyster!  As far as we know right now.
I have a secret dream of taking an international vacation to celebrate Kyle's graduation, which is supposed to happen next spring – either to Europe (England, France, Greece?) or Asia (Singapore, China?).  Kyle and I have never been outside of North America and – come on – we're 27 now so that's getting embarrassing!  I don't think we'll be able to save up enough by next summer at our current rate to do anything really expensive but if our rate of wedding invitations stays low for a while maybe we can afford something awesome by the time I graduate.  Even if we don't do something big big by next summer we'll definitely have saved enough do have a vacation of our choosing that is close to home.
Or we could do the much less fun and more responsible thing and save for Kyle's potentially-funded-by-us postdoc interviews or the frequent travel we may need to undertake a long-distance marriage next year.  I guess we should just keep saving hard and take an appropriate-sized vacation once we know where Kyle will be next year.  But until then I'll daydream of a vacation abroad…
Do you still choose your own destinations even while attending weddings?  When did the intense wedding years let up for you and did you take bigger vacations when they were over?  What is your recommendation for a big big vacation and a more local vacation for us?
photo from Free Digital Photos
Filed under: travel · Tags: invitations, savings, travel, weddings