I'm finding it difficult to care much about our personal finances these days, easily noted by the infrequent posting here. I actually find it very weird that I am not more engaged with our money, as I used to enjoy that so much. (Part of this is that I'm putting a lot of energy into thinking about other people's finances for my business so there is less left for our own.) I know exactly when it started, too – last fall, when I became funemployed and we merged almost all our targeted savings accounts.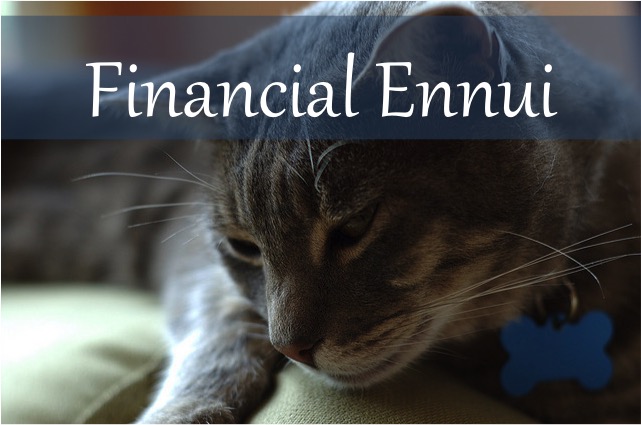 I have figured out a few reasons why I'm feeling this way. At least by identifying them, I can hope to change these circumstances in the future.
1) Our finances are a bit depressing.
With only one full-time income (and not even from a real job, just a postdoc), we are earning less than we ever have. That stinks. When I had my fellowship income earlier this spring we were actually in the black at the end of every month, but basically all the rest of the time we have to draw from our short-term savings to make ends meet (well… we still are saving for retirement so to some degree that is just shifting short-term money to become long-term money). I don't like feeling like we are falling further behind each month, so I sort of want to stick my head in the stand. This has been compounded by the huge volatility in the stock market over the last few months, so it has not even been the case that our investments are increasing our net worth.
2) Our finances are different every month, making planning difficult.
I really liked offloading our irregular expenses to our targeted savings accounts. They inspired me to project our expenses and save more aggressively. I liked that every month our 'everyday' budget was regular and I could work to reduce those expenses if I wanted to. Now, I don't bother planning and projecting because we can't intentionally save for the short-term (see point 1) and everything is coming out of either checking or our general savings account, anyway. Being funemployed, doing my fellowship, and now being back in Durham and self-employed has been a lot of change in a short period of time, so it's hard to tell what the future will be like. We don't even really have a budget now, just habitual spending.
3) Our life will be changing soon.
I don't want to say too much about this until it's finalized, but… We will be moving to a new city (still TBD) in a few months. While I totally see the point of minimizing spending in advance of that move, it doesn't seem worthwhile to invest in new money management strategies here in Durham. I'm hoping for renewed PF energy post-move.
4) We have no financial goals.
In grad school, our goal was to live below our means, which included giving and saving for the long-term, and that was very challenging and interesting to me. Now, we can't really live within our means consistently (see point 1), and we haven't set any new goals. We basically have a lot of short- and mid-term money with no short- or mid-term goals (no earmarks), which does not exactly inspire me to try with our money. In our case, frugality is not sustainable without a goal.
5) We're on autopilot.
Money comes in. We run it through our percentage-based budgeting system to save, give, and pay taxes on it. We spend money, mostly on needs and reasonable wants (we rarely tell ourselves 'no' for special events, though, and we aren't being creatively frugal). At the end of the month, we're either drawing from or adding to short-term savings. We don't have to make fresh decisions every month as we are just trusting ourselves to spend reasonably. This is not exciting or challenging.
After all that moaning and groaning, I'll tell you what in our personal finances is engaging for me at the moment: earning money.
1) I have a side job that is my main way to bring in money.
The main way I'm earning money these days is contract work. My goal is to bring in at least $1,000 from this source every month. I'm pushing myself, though, to raise that number as high as I can while still devoting most of time to my business.
2) I'm growing a business and hoping for future income.
Right now I'm in a pitching phase of my business: I've sent my personal finance talks advertising flyer to all my personal contacts still at universities, asking them to pass it on to the relevant groups. (If you are a grad student or postdoc, will you consider doing this as well?) Once the responses from this phase die down, I'll resume cold-emailing various groups at universities about possibly booking me. I've also finally started writing my ebook and am planning other products. This is a ton of work that is actually very engaging and interesting.
I feel bad about the personal ennui regarding our money management, but there are reasons for it, and at least I do care about earning money (for once). Again, I'm hoping in a few months that we will be setting some goals and become more energized around our personal finances again.
Have you experienced a period of ennui about your money? What do you do to energize yourself to care about your money when that is lacking?
photo by Malcolm Tredinnick
Filed under: budgeting, goals, income, psychology · Tags: ennui, lack of energy