Admonitions to 'earn more' are fairly rampant in the PF blogosphere (of course, balanced by the 'spend less' mindset). I read all the time about bloggers' and commenters' side hustles and what they do with their extra money. We have not been immune to this trend, either – a few years ago, Kyle started earning a small side income from a hobby job, and when I stopped working full-time last August, I developed a variable income stream as well.
I've observed patterns in how people choose to use their side income, and of course we've had to make this decision as well. The concept of a 'side income' is really in itself a form of mental accounting. Money in fungible so all your income could be treated exactly the same, but I know I've found the distinction between primary and side income to be helpful in spurring me to meet my goals. And really, if you are financially performing at one level with your main income and then you add a side income, you can use that income fully to meet your next financial goal or increase your lifestyle (or both), which is very motivating.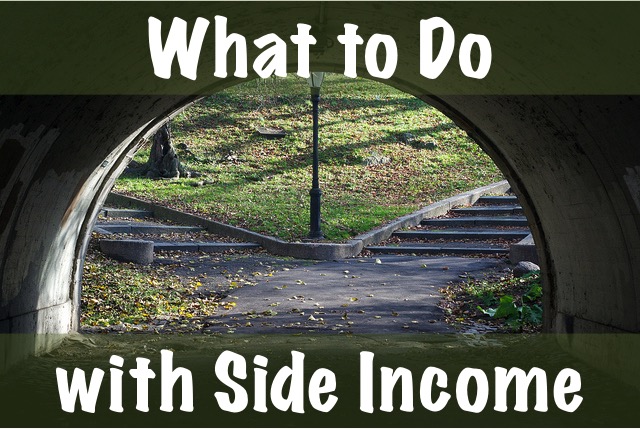 A) Pay your taxes
First thing's first, though – you are likely going to owe tax on your side income, so you should set money aside to pay quarterly estimated tax or perhaps increase your tax withholdings at your main job. This is the only point that everyone with a side income must do – the rest are your option. We use a really simple calculation to determine how much to set aside for taxes, which works for us because our side income isn't sufficient to bump us up a tax bracket. With every bit of side income we get, we transfer into our Taxes savings account 20.75% (our marginal federal tax bracket of 15% + our state flat tax rate of 5.75%) plus an additional 15.3% if the income is self-employment. If your side income situation is similar to ours, it should be easy for you to do that calculation, too: your marginal federal tax bracket + your marginal state tax bracket + 15.3% for self-employment (if applicable).
1) Increase your net worth
Though I've never used my side income fully for this purpose, most PF bloggers and comments I see are using their side income to increase their net worth, either by paying down debt or by saving it all for mid- or long-term goals. I love this use of side income because you are directly working for your long-term financial health. However, this use of side income could mean that the person is not saving enough or paying down debt sufficiently with their primary income and that is why they have turned to side income to do it. That is a dangerous situation to be in: if that side income goes away, how will you increase your net worth? But if a good portion of the main income is going to those sources and the side income is gravy on top, that is amazing.
2) Increase your lifestyle
We used to use side income to increase our lifestyle – after applying our percentage-based budgeting, we would put everything left into one of our 'fun' savings accounts, such as for travel or new electronics. This is the flip situation of point 2 – you have to take care of your net worth increases from your main income, so your side income is available just for fun. This can be really rewarding if you are living a rather ascetic lifestyle on just your main income and your side income is for your splurges. Even though I really love saving, I think I am motivated to earn more side income if I know it's going toward something fun. However, just like in point 2, you have to be prepared for the side income to evaporate and not come to internalize those lifestyle increases into your expectations from your monthly pay. That is why we preferred to put our side hustle income toward one-time purchases rather than recurring purchases.
3) Use it like you do the rest of your income
If you have a good system for how you use your normal paycheck money, perhaps adding your side income to that pool is the best choice for it. We use a certain percentage of all of our income, main or side, for certain purposes, which we are very happy with – taxes (see above), 10% for giving, 15% for saving into retirement accounts. The rest will either be spent on normal stuff, or, if there is money left over at the end of the month, the excess will be transferred to short-term savings. Under our current system, we do sort of need my 'side' income, so it just is added in with the rest of our income to go toward our monthly needs and wants. This is a good solution only if you can trust to a fair degree that the side income will continue and you have savings to use if it doesn't.
How you use your side income is certainly up to you, and it's worthwhile to examine your own personality and psychology to understand how you can best motivate yourself to earn more and meet your goals.
How do you handle your side income? Are you more motivated to earn more by increasing your net worth or increasing your lifestyle?
photo by Billie Ward
Filed under: choices, income · Tags: side income