I have heard many stories of people getting over their heads when furnishing their first living quarters after college.  Some of them get into credit card debt that haunts them for years and some others just create a really tight month or two for themselves on their new salaries.  This post is about a similarly strapped young person who didn't give in to those pressures and lived to tell about it.
Because I attended college a plane ride away from my parents' home and lived in fully-furnished dorms, when I returned to my parents' home in June after graduation my only possessions were my clothes, books, and a few keepsakes.  Even though I had a full-time job and the ability to become financially independent, I undertook the experiment of living with my parents and commuting 90 minutes each way to my job.
Part 1: Moving out of my parents' house
To be succinct, that didn't work out very well.  I found some roommates in my program and moved into a house close to work in January.  I had no emergency fund and no non-retirement savings at that point.  I was making $24,000/yr and living in one of the most expensive areas of the country so my budget was pretty tight.  I basically had only whatever happened to be left over in my checking account month-to-month available for furniture.
Luckily, the "real" adults in my life helped me and my roommates out in the furniture department.
My Room
small table for desk
chair for "desk"
armoire as dresser
bookcase ladder
Source
left by homeowner
borrowed from parents
borrowed from parents
mine (a gift)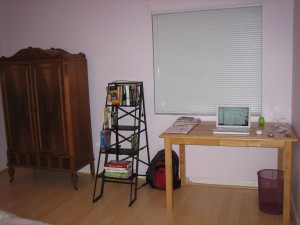 Common Areas
dining room table and chairs
living room couch
living room loveseats
cooking equipment
Source
borrowed from parents
left by homeowner
given by my advisor
provided by roommates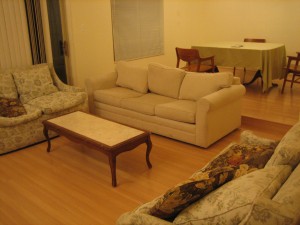 My parents couldn't spare a mattress (much less a box spring and frame) so I took the best option available to me: I bought an air mattress for $60.
Even if I could have afforded it (which I certainly couldn't), I didn't think buying a real mattress was a good idea at that point. I was in the process of applying to graduate school and was pretty certain I'd be moving anywhere from 300 to 3,000 miles in about eight months. I didn't want to have to hire movers to get me to my new home or take a huge depreciation hit upon reselling an almost-new mattress. I also didn't want to sleep on the floor. So I researched air mattresses and bought a heavy-duty camping air mattress and some cheap sheets. I bought a full, but by a stroke of luck I was sent a queen.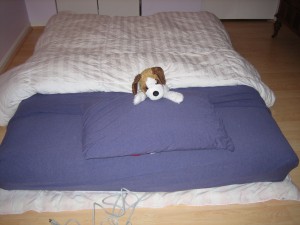 That was how I lived for eight months – sleeping on an air mattress in a room devoid of personal possessions aside from my clothes and about eight books.
Part 2: Moving to NC 
My situation wasn't much changed when I moved to graduate school and furniture was pretty far from my mind because I was trying to buy a car at the same time.  Between putting up first month's rent and a security deposit and having to wait almost 2 months between paychecks, I didn't have a whole lot left over for furniture right away.  My new roommate and I bought a couch off craigslist (split it 50/50) and I bought a desk from Staples for $60.  Later in the fall I bought a small table and four chairs and a bookcase off craigslist for our common area and a cheap geometric thing from Target to serve as a dresser.  Our common area consisted of only a couch, a table and chairs, and bookcase.  That's right – no comfy chairs, no coffee table, no TV, and no decor.  I was able to pay for these purchases in cash; carrying a balance on my credit card didn't even occur to me.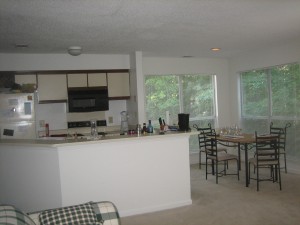 At first, I kept sleeping on the air mattress because I didn't have another option and it had served me well.  Living this way – Spartan living area, air mattress – was fine by me and apparently by my roommate, but it sure made other people feel uncomfortable.  It's not that usual for a bachelor pad to look the way our apartment did (and my now-husband's apartment certainly did) but it's weird for an apartment occupied by girls.  That fall I got on the rotation for hosting my church small group's meetings; even though they didn't say anything outright, I remember their shifting eyes and uncomfortable smiles as I invited them to sit on the carpet with me.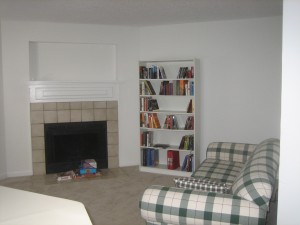 By this point I really should have wised up and started saving for a real mattress or more furniture.  But my roommate and I got into a strange enabling situation – she was also sleeping on an air mattress!  So neither of us appeared willing to invest money in furniture or decorations for our apartment and therefore we did not implicitly pressure each other to upgrade.  I set up my budget without regard to my furniture needs.
Part 3: Going on way too long
The end of my first year drew to a close, my roommate told me she was leaving graduate school and moving back to her home state.  Over the next few months, it became clear that she had never intended to stay beyond that first year.  Her behavior and non-investment in our apartment suddenly made sense, but I was out of excuses for still being on my air mattress – save one.
August 2009, in between my first and second years of graduate school, was when my now-husband and I decided we were going to get married.  We wanted to wait until he passed his preliminary examination later that fall before getting engaged, but since we had always planned on a short engagement I figured we would be married sometime the next summer.  What sense would it make to buy a mattress at that point, when my nearly-fiance had his own that I'd be sleeping on in the near future?  Plus, my new roommate for that school year came with a lot of her own furniture for our common area, so it was really only the air mattress that I had to feel self-conscious about.
To be honest, I didn't mind sleeping on the air mattress, physically anyway.  The only thing that bothered me was how other people reacted, but thankfully, I didn't care much.  And it lasted!  After it rounded year two it started to leak a bit more and I had to pump it up more often – maybe once every two months instead of once every six months.  When we retired my air mattress to our second closet, it still seemed like new.
All in all, it was a good investment.  I spent $60 and had something comfortable to sleep on for 2.5 years.  I've still never had to buy a bed.  I failed a bit on the hospitality front, but I didn't get myself into consumer debt.  And I'd do it all again – with my beloved air mattress.
Have you ever saved lived counter-culturally to save money?
Filed under: personal, transitions