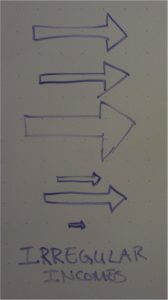 One of the clients I coached recently wanted to talk over how to handle his irregular income.  He was having trouble sticking to his budget because he ran his own business and his income fluctuated month-to-month.  I read a bunch of blog posts on the subject and my client found the strategies I suggested helpful, so I thought I would put all of it together in a blog post – with whiteboard drawings!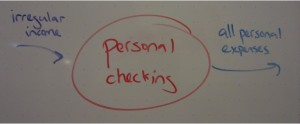 Here's what it boils down to: Use separate checking accounts to smooth out your income.  Gather all of your irregular income into one account and then pay yourself (i.e. to your personal account) a regular salary.  The more your income fluctuates, the more this strategy will help you facilitate a regular budget out of your personal checking account.
1)  Open at least one additional checking account into which you deposit your irregular income (IIA).  If you run your own business, you must have a business account that is separate from your personal checking.  This will make keeping track of your business income and expenses much easier and your accountant will thank you come tax time.

2)  Pay yourself a salary from your IIA that is somewhere between your minimum and average monthly income (after taxes and expenses).  Build your basic monthly budget off this salary.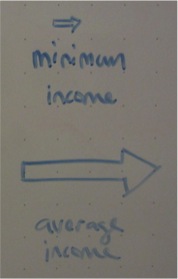 3)  Build up enough buffer in your IIA so that you can sustain the salary you chose even if you have several consecutive lean months – for instance, six months to one year of the difference between your salary and the minimum you make in a month.  If this is for your own business, there should also be enough buffer to account for the temporary expenses you may incur and for taxes.

4)  Pay yourself bonuses between once per year and quarterly.  Since you don't need these bonuses for your regular budget, you can use them as extra short-term or long-term savings or to make large purchases/splurge.  If your income falls below your projections, you can forgo these bonuses.  The balance between the size of your salary and your bonuses is something that you can play around with, but be conservative with your bonuses when your buffer is lower and you have more uncertainty about your income.
5) (Optional)  You can use this strategy for each independent income stream you have, if you like (and certainly for every business you run).  If  one of your sources of income dwarfs the others this may not feel necessary, but it just depends on how regular you want your income to your personal account to be.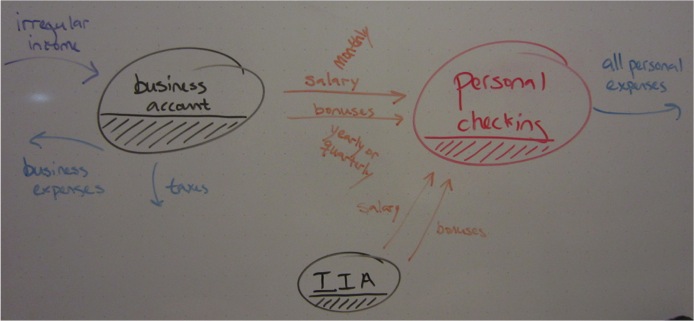 Like many other topics in personal finance, there are simple and elegant solutions to problems – the difficulty is in implementation!  I imagine it's very hard to project one's income, especially if your income is dependent on commissions (or other people's decisions generally) and there's not much you can do to make up for a shortfall in a given month.  On top of that, deciding how much salary to take, especially at the same time that you may be launching a business, must be very difficult.  But even if you can't work this system perfectly from the beginning, any shift away from putting all your irregular income into your personal checking account and into an IIA will be helpful in keeping a more regular budget.
Blog posts I found helpful: 99u, Simple Mom
What's your strategy for irregular income?  (We don't actually have any so please critique the strategy I outlined!)
Filed under: income · Tags: budgeting, irregular income, self-employment