In Episode 12 of the Two Guys and Your Money Podcast several PF bloggers discussed the financial impact of having children.  They briefly touched on savings for college.  In what kinds of vehicles to save for college is a very popular topic around the PF blogosphere but I was surprised to hear that several of the participants did not plan on saving for their children's college educations within tax-advantaged education accounts.  More than that, they weren't even certain that their children would go to college.
Even with all the discussions going on now on the enormous price of a college education, the high unemployment rate of recent college graduates, and all the great jobs/entrepreneurship endeavors that can lead to success without a college degree, I still fully believe that my future kids will go to college (barring developmental disabilities).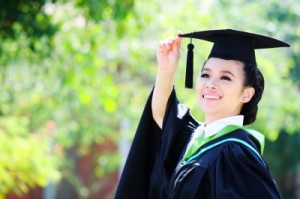 I think it boils down to two reasons – our educations and the expectations put on us.
I mean, Kyle and I are on track to get PhDs – it would be super weird for the child of two PhDs to not even get a 4-year degree, right?  That would be a big departure from the family norm we're setting up.  We obviously highly value education and I would expect that by age 18 our child's values would probably still be rather close to ours.  Between nature, nurture, and some financial assistance for us, college would be a lock for our future children, I think.
Kyle and I both grew up with the expectation that we would get at least bachelor's degrees.  We each have a parent with a master's degree and education was strongly emphasized and encouraged.  I even joke that Kyle has "Asian parents" in the sense that they put a lot of pressure on him to get the best grades (my parents were more of the cheerleader type – everything I did was wonderful).  I don't know any other kind of expectation to set in a family as far as career preparation goes!
The weird thing, though, is that even though my siblings and I all grew up in the same household, neither of them is on track, as of now, to get a bachelor's degree.  I though that I had to go to college – no ifs, ands, or buts – but clearly my siblings did not perceive the same edict from our parents!
Anyway I guess I'm sort of a traditionalist and conservative!  I know what the benefits of college are but I don't know how another path would benefit my child.  Kyle and I do hope to start an educational savings account when we have our first kid, budget/income willing.
I have the same questions for you in poll form so please answer each of them and add your thoughts in the comments as well.

Loading ...

Loading ...

Loading ...
What were the expectations regarding college in your parents' home and how does that match up with what you did and what you expect of your (future) children?  Do you think we're over-the-top with 100% believing that our children, who we don't even know yet, will go to college?
photo from Free Digital Photos
Filed under: college · Tags: college, expectations, family of origin, kids, parents, poll