This weekend Kyle attended his departmental retreat a few hours away from Friday afternoon to Sunday afternoon.  He took our car and my cell phone with him so this whole weekend I have been without fairly basic "needs."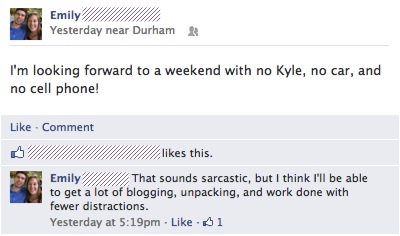 Kyle tried to find a ride to his retreat, but since he was actually attending two retreats in the same city he needed to be able to get back and forth and the other people attending both weren't following the same schedule he needed the car.  And since he was going out of town, we figured he should have a cell phone – mine, since I destroyed his.
I didn't go out dancing with my friends on Saturday night (wasn't really interested without Kyle) or to the farmer's market on Saturday morning but those were really the only activities I forewent.
Car substitute
I took the bus to and from work!  I spent a full day in lab on Saturday and stopped in on Sunday after church as well.  It turns out there is a bus stop right across the street from our townhouse complex!  Our employer gives us a free total-access bus pass for our city every year so I didn't even have to pay.  It wasn't a perfect experience but it was pretty convenient.
I walked home from work one night when I missed the bus – oops!  It's a bit under two miles from my office to our townhouse so it only took me about half an hour.  I walk for half an hour around our complex many nights after dinner anyway so – multitasking!
I got a ride to church from a friend and she dropped me off at work after.  I think I could have bused again but we live fairly close to church and my friends were planning to go to campus to eat lunch anyway so I didn't think it was a big deal to ask someone.  It ended up working out well for both of us.
Phone substitute
It may not be that surprising since I have a dumbphone, but I actually don't use use my phone that much.  I don't text a whole lot or receive a bunch of phone calls – I prefer email.  I don't have anyone who needs to reach me urgently.  So I wasn't too concerned about not being able to receive calls or texts.
Kyle uses Google Voice for his primary number, which is why him not having a phone isn't a disaster.  He used it for free texting and can still receive voicemails.  If I had needed to make a phone call, I could have done it through his Gmail account, but I didn't have a need.  We were able to Gchat one another and text with Google Voice a few times throughout the weekend.
No enormous lessons from this weekend, I guess.  It is nice to be reminded that all I really need is a place to live (with water and power) and food.  On a short-term basis I can go without anything else even if it's a bit inconvenient.  This wouldn't have gone so smoothly if we hadn't already deflated our lifestyle by 1) giving up our second car, 2) using Google Voice to avoid paying for texting and 3) eliminating Kyle's smartphone.
What are your true needs?  If you had to go without a car, how would you get around?  What would happen if you were without your phone for a day?  Do you think it's valuable to know what your wants really are or are you secure that you don't need to consider your life without them?
Filed under: lifestyle creep · Tags: bus, carless, dumbphone, needs, wants