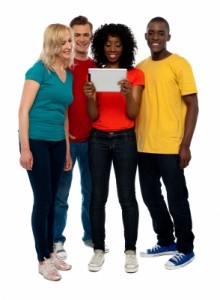 Today I'm sharing with you a list of bloggers that I admire.  They are all successful in a variety of ways – namely, that they have defined for themselves some major goal and are well on their way to achieving it.  While all the goals are different, I imagine that their success gives them the flexibility to pursue what's important to them – the motivation behind the money management.  I hope you will check out each of their blogs!
Leigh has a killer income, a modest lifestyle, and the financial savvy to know what to do with the difference.  She discusses her investments as well as her plan to pay off her condo mortgage in less than 5 years!  Leigh is just a few years out of college so she really embodies what's possible for a young professional with highly marketable skills.
The name of the blog is Retire by 40 and that's exactly what he did!  RB40 became a stay-at-home dad six months ago but is still pursuing alternate and passive income streams to supplement his wife's income while he cares for his young son.
What I admire about Kim is that she's constructing the life she wants after a great first career.  She built up a business but has decided to sell it, generating passive income off those years of investment as well as enabling her to work a more flexible schedule.  It's a win-win!
Ninja and his wife are the same age as Kyle and I but have taken a very different path and therefore are in a very different financial position!  They have great incomes that have enabled them to pile up almost $100,000 in cash, which they are now using to jump into the real estate market at exactly the right time.  Oh, and they tithe and they're debt-free.  Amazing!
It seems like Paula has never lived a "conventional" life – nor does she want to!  She behaves in a way only rich people are "supposed" to, like traveling the world and investing a huge portion of her income.  Paula is a real estate investor and I enjoy seeing the investment choices she's making and how she works to generate multiple income streams.
Kraig is a wonderful writer who clearly communicates his blog's main message: get out of debt, live on less than you make, and become financially independent.  Kraig got out of his own pile of debt and has been saving half his income for the past two years.
Michelle has numerous wonderful qualities that make her a great blogging friend, but I'll just point out one aspect of her blog that has become quite popular – Michelle is earning more in "side" income than she does from her full-time job.  She has a variety of income streams, including blogging, renting out a room in her home, and freelance writing.  All this extra income has enabled Michelle to set an ambitious goal of paying off her student loans in only a few months.
This list is by no means exhaustive and I have other blogs I follow closely and comment on frequently – these are just examples of people who are not only doing amazing things in their financial lives, but they are transparent enough to tell us how they're doing it!  Many of them write regular net worth/budget updates and it's inspiring to see how quickly their numbers are increasing, while they are positioning themselves to have the lives they want.
Who do you admire in the PF blogosphere – or in real life?  Why?
photo from Free Digital Photos