In a recent post, I confessed that I lost track of my car title for about six years and only tried to have it sent to me once selling the car became a near-term possibility. I was a terrible fool to ignore that problem for as long as I did, and in the end it took nearly a year for the DMV to mail me my car title. Insane! Of course, I wish I had started that process when I first noticed that I didn't have the title, and if I had, we wouldn't have experience any significant financial hit. However, as it actually played out…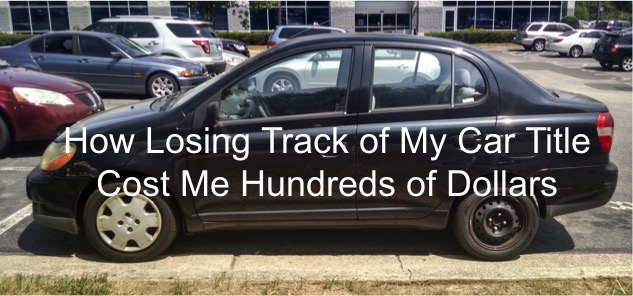 I made another series of mistakes in the months around when we moved from Durham to Seattle. We decided to only take Kyle's car with us across the country and therefore wanted to sell my car. But instead of deeply looking into how to do so, I relied on rumors and assumptions about that process. For some unknown reason, I was terribly intimidated by the process of selling my car and that kept me from diving into researching the topic as I typically would.
As the weeks clicked down to our cross-country move in July, we waited to receive my car title. I thought that I needed the car title to sell the car either through private sale or to a dealership like CarMax (another mistaken assumption!). Finally, our moving date loomed and we accepted that the car title was not going to arrive in time. I already had a trip to Durham planned for about a month after our move to speak at my alma mater. A friend graciously volunteered to let us leave the car at his house until my trip. He offered to sell the car on our behalf through a private sale if the title arrived sometime in the next month, and I also though that as a back-up plan I could sell the car to a used car dealership during my visit.
As you already know, the title did not arrive in time for my trip to Durham. Still, I visited two used car dealerships in Durham to get quotes on how much they would pay for the car and I decided to accept CarMax's offer of about $1,900. Apparently, not having the actual car title is not much of a problem for CarMax; it just needs to verify that the car title is free of liens.
Because I visited CarMax on a Sunday, they were unable to contact the DMV right then to see if the DMV's records reflected the lien release it had received from my lienholder back in 2008. The other way they could verify the clean title was through a lien release letter, which I had – in Seattle. Again, because of my failure to research how car sales without titles actually work, I hadn't realized I would need to bring this type of documentation with me. A simple phone call to CarMax before I left for my trip would have solved this! I considered having Kyle overnight mail the lien release letter to me (a photo was not sufficient), but ultimately gambled that the DMV would have updated my title within their system when CarMax checked it on Monday morning. When I returned to CarMax on Monday (they would not give me this info over the phone), I found out that the DMV record of my title still showed a lien. CarMax would not be able to take my car off my hands that day (the last day of my trip). Also, because the car title was in my former last name, CarMax would not allow me to transfer power of attorney to our friend for him to sell the car to them on my behalf after my trip.
It's a bit hard to describe or even understand many months later how devastated I was by this news. I cried about this on multiple occasions (I am not much of a crier). I just felt so emotionally exhausted and overwhelmed by all my failures in this process – my failure to procure my title after I paid off my loan, my failure to research how car sales work, my failure to bring the proper documentation with me on my trip, and my failure to take car of all of this before moving out of state. There was also the necessity of trespassing on our friend's hospitality by leaving the car with him again. (Our friend, again, was incredibly gracious and helpful in this process, giving no indication that this was an inconvenience for him.) The sleep deprivation I experienced due to my red eye flight to Durham and the typical stress and exhaustion associated with delivering a talk exacerbated my emotions regarding the car that weekend.
When I arrived back in Seattle, I felt defeated. I was so over dealing with the car – not necessarily because I had put so much work into the process but rather because I was overwhelmed by all the mistakes I had made in the process and I was afraid I would make more. I asked Kyle to take the lead on the remainder of the process since he was more emotionally removed from it.
Essentially, from that point forward, we waited for the car title to arrive so that our friend could sell our car for us privately. We waited – as you know – for many more months. At long last, the car title did arrive, and in February, we let our friend know that we were ready to move forward.
The last hurdle was to figure out how to transfer power of attorney to our friend so that he could sign the title for us during the sale. CarMax made it clear that I would have to sign the power of attorney document using my former last name because that was the name that matched the title. I called my bank notary here in Seattle and asked if I could sign this legal document using my former last name. After all, I am the same person, and the car really does belong to me! The bank notary checked the policies and was forced to decline, but suggested that I contact an independent notary who might have a bit more leeway. Ultimately, I was able to find a notary who would let me sign the document with my former last name using an old (canceled) passport with my former name as my ID. Finally, a break!
We mailed off the title and power of attorney documents to our friend. Within a few weeks, our friend sold my car through a private sale for, after expenses, about the same price that CarMax had offered me. Awesome!
Maybe you can already see how losing track of my car title plus failing to research the car sale process cost us hundreds of dollars. Ideally, we would have sold the car back in July 2015 (or even as early as April 2015), but we ended up selling it in March 2016. That's a delay of at least eight months – eight months in which we were paying for car insurance. In hindsight, we might have taken the car off our insurance policy until the title actually arrived and people started test-driving the car to save on the cost – we had done so several times in the three years our car was benched. Perhaps that wouldn't have been possible, though, since we had moved out of state and my car was the only one remaining on that policy.
Eight months of car insurance on that car cost us about $550. $550, stress, emotional exhaustion, and trespassing on hospitality were the sum cost of my mistakes in this process. Yikes.
As significant as that cost is to us, I mostly just feel relieved that the book is closed on my car. I did learn some important lessons that I won't soon forget:
always know where your important documentation is
do your own research instead of being intimidated by hearsay
bring every relevant document possible with you to transaction meetings
don't accept "no" as an answer; find a creative solution
How much money has procrastination and/or disorganization cost you lately?