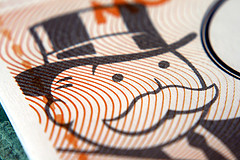 Kyle has been lobbying for us to get a chess set for several months now so we can play together, and last Friday I finally agreed and we picked one up.  We played four games over the next two days and he beat me soundly in every one.  I am a bad loser so I was kind of sulking after, and I asked him if he would let our (future) kids win in chess.  Then I had a flashback to playing Monopoly when I was a kid with an uncle who beat me very thoroughly, and my feelings were similarly hurt.
Here's the thing that I remember about that game: when we started, I kind of bragged to my uncle that part of my strategy was to take one of the two $500 bills dealt to me and put it to the side, away from the rest of my money to serve as an emergency reserve as well as capital to be potentially invested in Boardwalk, which was my favorite property.  And of course, he beat me by a lot so I was forced to use my reserve $500 to pay bills before I went bankrupt, and I never got the opportunity to purchase Boardwalk.
Even as a child, my risk-averse, conservative saver personality was evident in my game-playing!  I didn't know anything about finances at that point except for "save for a rainy day."  I don't think that's the greatest strategy for Monopoly but it's a pretty good one for life – keep some money aside in case you get in some trouble and save for investment opportunities.
Did you see hints of your money tendencies during game-pay as a child?  I also remember playing some kind of stock market game in school and Kyle played a small business game.  And of course there was Oregon Trail!
photo by rutty
Filed under: emergency fund, personal, savings