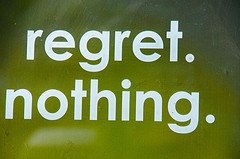 Kyle and I have a rule: We don't watch important basketball games (i.e. any game involving our team, or the final rounds of the NCAA tournament) with people who don't care about basketball (apathy is bad enough – rival fans would be inconceivable!).  You can imagine the situation that inspired this rule!
So I was surprised when Kyle told me yesterday that he is planning to watch our team's big rivalry game this weekend with people in his grad program instead of our basketball group.  (I'm attending the game.)  Knowing that this would result in his diminished enjoyment of the game, I blurted out "Why do we even have these rules if you're just going to break them?!"
That conversation got me started thinking about the rules we've set for our financial life, and how well we follow or expect to follow them in the future.  I've mentioned debt-free-ness several times on the blog and how that is a value of ours, but I'm not sure how committed we are to it.  First, we definitely will take out a mortgage (but a lot of people don't count that).  Second, I don't think anyone can 100% guarantee that of his future because we don't know what tragedies might befall us.  You can have reasonable insurance coverage, but something unreasonable could happen.  We've learned over the past few years that people can become victims of a bad economy and get into a cycle of un- or under-employment.  Third, Kyle and I haven't actually positioned ourselves to remain debt-free under a variety of conceivable circumstances because we haven't built up a good emergency fund or cash reserves.  So we haven't really put our money where our mouth is for this aspect of our financial life.
Here are some of the other rules I thought of, and how well we adhere:
Never carry a balance on our credit cards:  Check, forever.  I almost always pay off the charges from a given month by the end of that month, far before the bill is due.  I like treating our credit cards more like debit.
Live within our means: Ummmmm, depends on how you define it.  We aren't taking on any more debt, but sometimes we "borrow" money from ourselves, or some months we go over-budget and money gets shifted from the next month or savings to cover it.  Loosely interpreted, this is a lifetime rule.
Give at least 10% of gross income:  I'm confident that we do this, although we don't specifically calculate on our interest/dividend/miscellaneous income.  We currently tithe to our church and then give above that as we see need.  I think we will always stick to this one.
Save at least 10% toward retirement: I started my IRA in 2007 and I think Kyle started his in 2008.  I initially set my contribution to be 10% but have edged it up over the years.  When we have real jobs I'd like to save an even greater percentage, but we're pretty well maxed out now at 19%.  This is a good rule but I'm not sure we will always always comply, for instance if one of us became unexpectedly unemployed.  We'll see.
Never buy convenience lunch or snacks at work:  This is a relatively new one for us and it's really more for me than Kyle.  Several months ago we cut our eating-out budget to $60/month – only 2 or so meals out together – so we no longer waste any money on non-date/non-social meals.  I stopped my occasional indulgences at Panda Express when I got serious about my diet about a year ago.  Honestly, I prefer the food I bring from home, and Kyle gets enough free food offers from seminars that I think he's satisfied by the variety.  Food bought at work is only allowed if it's planned and for a specific occasion.  I don't expect this rule to last beyond grad school strictly, although I hope we will always be in the habit of bringing our lunches.
I guess we're doing pretty well in following our rules now, but it's difficult to project some of the more ambitious ones into the future.  Like our basketball-watching rule, they are great guides for our life – and when we break them (sometimes unavoidably) and experience detrimental consequences, we can say "I told myself so!!"
What are your financial rules?  Do you keep them, bend them, or occasionally break them?
photo by Ed Yourdon
Filed under: budgeting, choices, credit cards, debt, giving, retirement, values · Tags: rules