This weekend I re-projected the amount of money we need to save monthly into our Cars targeted savings account.  I'd like to share my method with you so that you can see as an example how we decide how much to save into each savings account.  The Cars account is a good one for this exercise because the payments we make out of it are very well-defined (unlike Travel or Appearance) but they're shifting a lot in the upcoming year because of our present one-car situation.
We are currently saving $320 per month into this account, which is a bit of a burden as we also need to repay ourselves for our recent dental work.  So I wanted to see if we could get by with a lower savings rate now that our estimated repair date for my car has been pushed back to April 2013.  (Kyle talked with his advisor this month and they expect that he will graduate in May 2013, a semester later than we had hoped.  So that means we will be able to keep up the one-car lifestyle for at least an additional semester.)
The estimation starts with the current balance in our Cars Account, which is $990.78.  I would like to keep a $500 buffer in that account in case Kyle's car needs repairs (not accounted for in this calculation) or if something else comes up related to our cars.  That leaves $490.78 available immediately for necessary payments.
The next step was to map out all our projected expenses related to our cars (excluding gas).  I went out 16 months (May 2012 to August 2013) to capture all the expenses that will pop up again once we put my car back in commission.  There are eight expenses we needed to account for in that time – car insurance (we pay for 6 months in advance), renters insurance (this isn't a car-related expense but because we have it bundled with our auto policy we keep it in Cars), work parking permit, DMV expenses (registration fees and taxes), and the repairs we need on my car.
The first time the expense in each category comes up it is labeled with a purple background, and subsequent times are labeled with a blue background.  I draw the distinction because the blue-labeled payments have a regular pay-in period (6 months for car insurance, 12 months for everything else) whereas the pay period for the purple expenses has been cut off at May 2012 as I am re-calculating how to save to get to those expenses.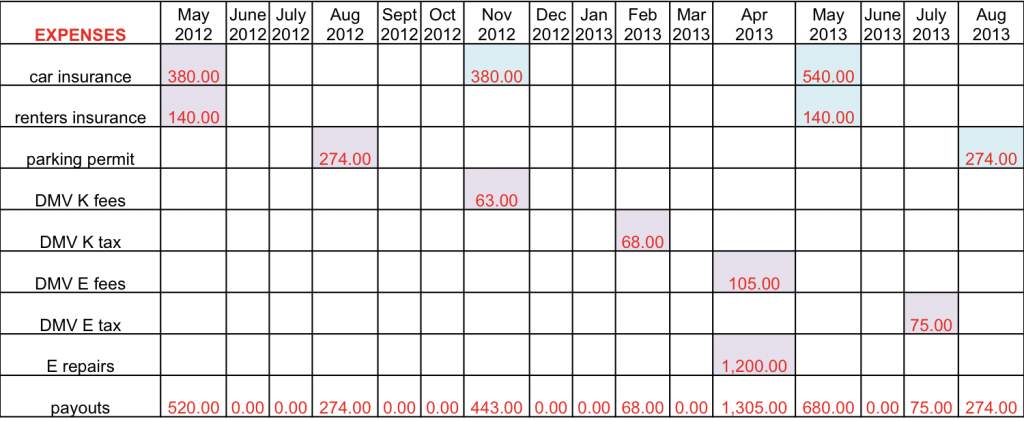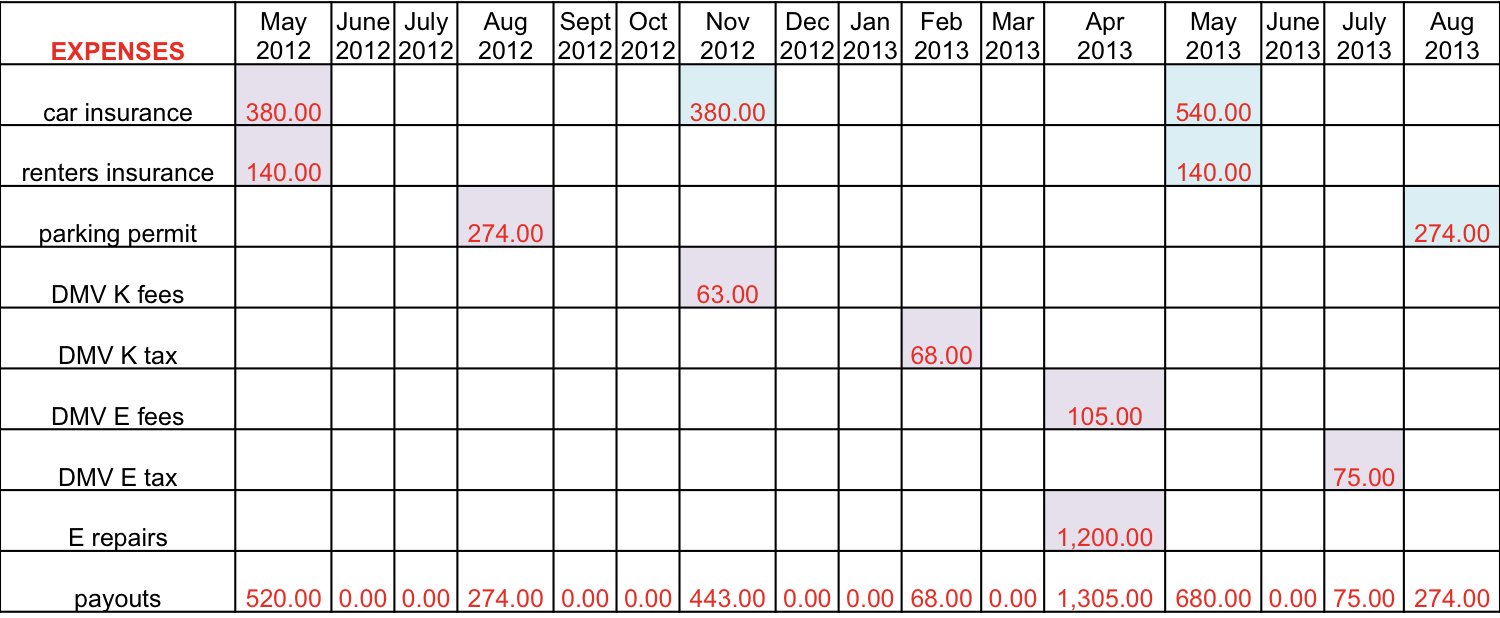 You can see that in many months we won't have to pay any expenses, but the peak month will be April 2013 when we repair and re-register my car.
The next part is a little trickier to understand so bear with me.  I want to populate a table like the one above with the savings needed in each category.  Let's take the parking permit category as an example.
Our parking permit is $274 per year and we pay in August.  So to save for the payment in August 2012 we divide the full amount by the four months we have between now and then.  For the payment in August 2013 we divide the full amount by twelve months.

Then I fill the table filled in with the proper values for all the intervening months.

Here is another example for the car insurance category.  We are going to make a $380 (our one car rate) payment in May 2012 and another in November 2012.  In preparation for our two-car insurance rate resuming for our May 2013 payment, I'm estimating that our rate will go back up to $540.  I'll keep the same savings rate for this category for post-May 2013 as we will continue to be insured.

OK so you get the idea.  Here is the full savings rate table filled out.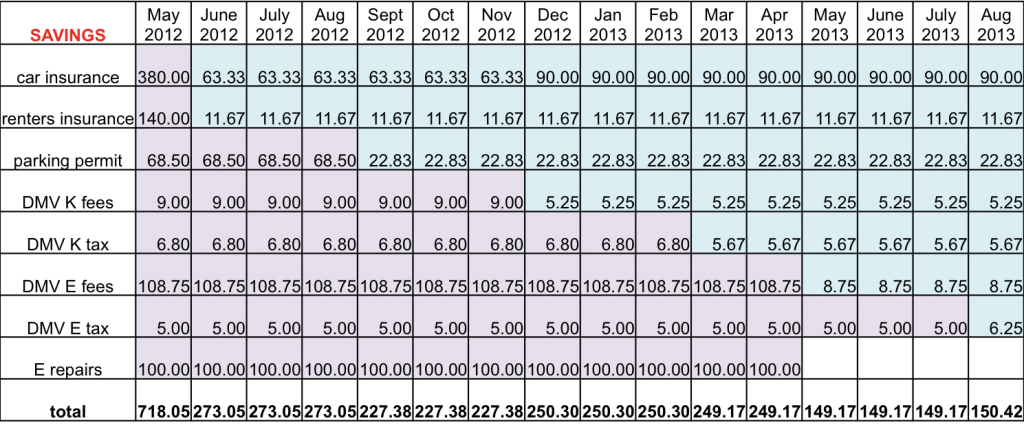 You can see that the amount it says I need to save in May 2012 is over $700, but that isn't taking into account the amount available in the account, which is $490.78.  Subtracting the available balance from the car insurance entry in May 2012 will give us the proper savings rate for that month.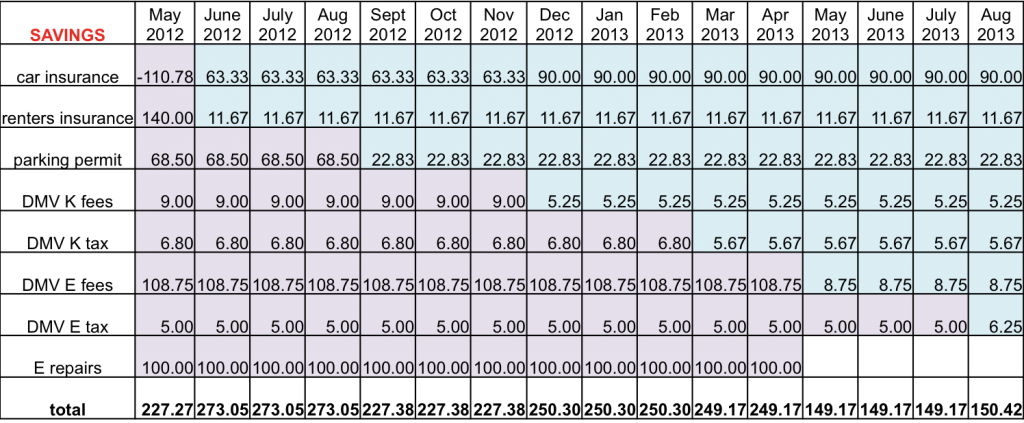 It looks like the highest necessary savings rate over this 15-month period is about $275, or $45 less than our current savings rate!  I don't like changing our savings rates every month, so we're just going to call this $275/month at least through when we pay for our 2012-2013 parking permit in August, and then we might drop the rate to about $250/month.  Once we repair my car next April we very likely won't drop the rate to $150/month but rather re-evaluate again.  Ideally, Kyle would be starting a postdoc (or a real job!) somewhere in the Triangle so we would hugely beef up our savings rate for repairs and so we can pay cash for our next car.
Whew!  So that is how we figure out how much to save in certain targeted savings accounts.  This is the most precise one because I know all these values pretty exactly (excluding inflation/depreciation).  For our other accounts I have to make educated guesses in at least a couple of the covered line items and in some cases (Electronics, Appearance) we're pretty much guessing based on past spending trends.
Do you project categories of expenses like this to make sure you save enough, or is your monthly buffer large enough to absorb most costs?
Filed under: budgeting, cars, targeted savings · Tags: car insurance, car repairs, fees, savings, taxes