Like last month, this was a great one for coming in under budget overall!  I think the key is that we have a high-limit grocery budget (in comparison with 6 months ago) and we're getting our CSA boxes so we're spending less out of pocket on food and have a lot of buffer in that area.
We spent a crazy amount of money this month but our targeted savings accounts were able to cover nearly all of it.  See the bottom of our post for the amount of money I was able to zero out of our checking accounts!
One of our credit cards was stolen midway through the month.  A bunch of fraudulent charges from Mexico showed up (and then foreign transaction fees) but Chase flagged them and overnighted new cards to us.  (A day without our primary credit card – what would we do?!?!)  It actually took us two calls to Chase to get it all resolved, which was a bit annoying.
The Everyday Budget
Things that stay the same every month and are not interesting to report:
INCOME: our paychecks
SAVINGS

Roth contributions
targeted savings accounts

GIVING
EXPENSES

rent
cell phones
internet
In terms of our discretionary/variable spending: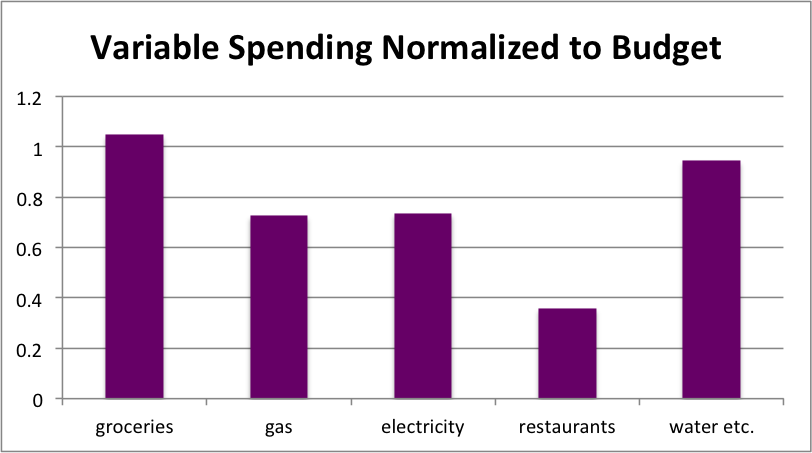 Groceries:  We slightly exceeded our budget here.  We visited grocery/warehouse stores nine times this month (a lot for us!) and the farmer's market twice (not as much as I would like).  The trip that put us over the top was to Costco to buy meat to share at a Memorial Day weekend cookout.  I think we're in good shape going into next month as we have a lot of food on hand.
Gas:  I think we're using about 2.5 tanks of gas each month, which is $90 if we fill up twice and $135 if we fill up three times.  This was a two-times month.
Restaurants: We only went out once this month, and it was to a fundraiser hosted by a local restaurant where our friend's coverband was playing.  We had a Restaurant.com gift certificate so we only spent $18.49 on an entrée, an appetizer, and a beer.  We also gave $3 to a friend to cover the meat at a cookout.
Every month we also have some random other transactions that aren't covered in the budget but aren't supposed to be taken out of a targeted savings account.
Income:
I stopped by a table in the café outside my office and took a survey.  As a result, I got $10 and made a $4 donation to the school.
We redeemed $27.93 of credit card rewards as a statement credit.
We received a very generous gift for our second wedding anniversary, but it didn't go into the general budget.
Expenses:
We purchased shoes this month but overspent our Appearance budget, so we had to cover $53.49 in the general budget.
I paid my bursar bill this month, which was a $4.99 late charge from our library from a semester or two ago.
Spending Out of Targeted Savings
In total, we spent $973.63 out of our targeted savings accounts this month, whereas monthly we save $853.  So it was a month made possible by this savings strategy!
Travel and Personal Gifts
We bought some chocolates and candies for our friend's birthday.  I also chipped in $10 for gas to my departmental retreat.
Cars
We paid for 6 months of car insurance this month, which was $418.47.
Entertainment
We renewed our season tickets to the Broadway musicals series at our local theater for the 2012-2013 season for $386.  We also saw "The Hunger Games" – with out student discounts, the total was $15.
CSA and Local Food
I've decided to stop using this account for CSA overages and local food, at least for the summer.
Appearance
We spent $165 on 4 pairs of shoes.  $109.49 of this came from the targeted savings account and the rest came out of the general budget.  We'll use some of the balance next month to repay our general budget.
Medical
No spending this month.
Electronics
No spending this month.
Charitable Giving
Lots of activity in this account this month!
We donated $50 to our undergraduate institution after attending our reunion.
We donated 67 cans of black beans ($40.32) to a local homeless shelter.  We made a dinner for over 200 people at the shelter with a group from our church.
We gave $20 to Jacob for his multiple sclerosis bike ride.
We paid/donated a $20 cover charge for a concert our friend's band did at a local café (where we spent the $18 on dinner).  I thought this should come from "Entertainment" and Kyle thought "Charitable Giving," but it was sort of both.  We donated the money but we received a lot of '70s and '80s covers in return.
Budget Adjustments
This was our first month with our new lower Cars savings rate and increased Medical savings rate ($45 shift).  Other than that, we didn't make any changes.
This month we have a whopping $185.13 left over!  I think we do, anyway – it's such a large amount that I keep checking my math over and over to make sure.  I'm transferring it to our nest egg, thus reducing our debt-to-ourselves considerably.  🙂
How was May on your budget?  What has been your largest amount of budget leftovers, and over how many months was it gathered?  Do you have any particularly good or bad experiences dealing with a stolen credit card or similar?
Filed under: month in review · Tags: cover band, donations, restaurant.com, targeted savings