While our workplace provides health insurance and a small yearly voucher for eye care, we are on our own for dental care.  As a consequence, we haven't been to the dentist since we went off our parents' insurance – five years ago for Kyle, two years ago for me.  I am very happy with my smile (naturally straight!) and I was beginning to have visions of cavity-ridden teeth and anesthesia, so I scheduled two appointments for us for yesterday for exams.
Thankfully after the X-rays, cleanings, and exams we were both given a clean bill of health and did not need to have any additional work done.  Even so, our total bill came to $600, which is a huge hit to our Medical savings account, but that's what it's there for!
When I got to work I mentioned to my coworker about the appointment and she asked if we had gone to one of our university's "preferred" providers, who gave discounts.  I looked up the list and it turned out we had, but after checking their discounted prices I could see that we had paid the full price.  We called the office back and they agreed to give us the discounted prices if we provided our health insurance information.
Here is a breakdown of today's appointments, the price we paid, and the discounted price: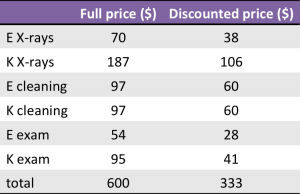 So just that little conversation and a short phone call saved us almost 50% on our enormous bill!  I'm so glad I discussed it with my coworker.
Below are some possibilities for saving money on dental care when you don't have dental insurance through your employer.
1)  Practice good preventive care.  OMG preventive care.  I upped my game when I stopped seeing the dentist regularly, but you should do it even if that's not your situation!
floss
brush at least twice daily with fluoride toothpaste, and after all meals if you are a superstar
invest in an electric toothbrush
reduce your sugar/simple carbohydrate intake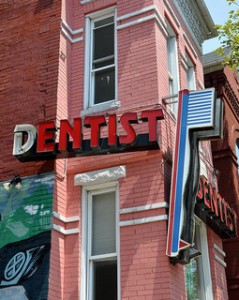 2)  Purchase insurance.  I got an instant quote from the dental plan I could buy through my health insurance, and its monthly premium is $39.  Most years I get no work done, so I'd rather pay out-of-pocket occasionally than pay those premiums monthly.  We're also self-insuring a little bit with our Medical savings account so I feel comfortable without it.  There are also plans available on the open market.  I found a plan for $17.50/month premiums but with higher payments per service than through my health insurance.  Just make sure you understand what you're buying!
3)  Subscribe to a discount plan.  You can pay for discount plans like the one offered through my health insurance company, but for a monthly fee.  For instance, in my zip code I could pay $7 per month and get discounts even deeper than the ones I'm already signed up for through my health insurance.  Remember the difference between insurance and these discount programs, though!
4) Get care through a non-traditional route.  You might be able to receive donated dental services through various programs available in your state if you qualify (elderly, disabled, low-income, etc.).  You could also become a patient at a clinic associated with a dental school to be treated by a doctoral student.  You could visit a federally funded health care center (not just dentistry), where you pay what you are able.
I used these sites when compiling this list – source 1, source 2, source 3.
In any case, I would encourage you, if you need insurance input, to ask your coworkers and others in your same situation what they do.  Certainly do your own research, but you can find new ideas like I did today by using their (verified) best practices.
Do you use any of these routes to procure dental care?  Do you have any other suggestions for people without insurance?
image from Kevin H.
Filed under: frugality, insurance · Tags: cleaning, clinic, dental care, dental insurance, discount plan, exam, no insurance, preventive care, X-rays