Two weeks ago I got a great comment on my Roth IRAs for Graduate Students post from Joe.  He asked
"Why would you want fellowship income to be reported as earned income?  The payroll tax (6.2%+1.45%) that must be withheld from wages … in my opinion, makes the unearned income classification better."
The payroll tax exception for 1099-MISC income wasn't something I addressed in the Roth IRA post (although I mentioned it as a perk for some students) but I probably should have.  You do not pay into the Social Security and Medicare funds when you receive a 1099-MISC for your income, which means that you get to keep an additional 7.65% of your gross income compared to someone being paid with a W-2.
In the Roth IRA post I only explained that some fellowship income isn't considered "earned" and why I thought that was a ridiculous categorization.  I didn't attempt to answer "Which type of pay is better for the recipient?" but I will in this post.  I'll run through the numbers of a few reasonable scenarios to see which comes out ahead and then make a recommendation.
In all scenarios, I will consider a first-year graduate student making $24,000 per year, investing in a fund (inside or outside of a Roth IRA) that provides a consistent 8% rate of return.  I will not consider inflation.  (As I've noted, these parameters do not reflect reality but they are useful for distinguishing among hypotheses.)  While in graduate school the students are subject to a 15% federal marginal tax rate and post-graduate school they are subject to a 25% federal marginal tax rate, with a 6% state tax rate throughout.  I'm using this calculator and assuming monthly compounding.  I assuming graduate school lasts 5 years (ages 25 to 30).
At age 25, Angela is paid with a W-2 and Bertrand and Coretta are paid with 1099-MISCs.  They all commit to saving 10% of their gross pay for retirement.  Bertrand and Coretta, recognizing that they have an additional 7.65% available based on how they are paid, bring their total retirement savings up to 17.65%.  So in one year in grad school, Angela saves $2,400 into a Roth IRA while Bertrand and Coretta save $4,236 in brokerage accounts.
Angela and Bertrand don't contribute any more money to those accounts after their first year in grad school and don't move the money at all.  What are their account balances at age 65?

As expected, Angela's money grew faster than Bertrand's because her rate of return wasn't hampered by taxes.  Even though he started with more savings, her account balanced quickly passed his.
Coretta knew that tax-advantaged accounts would help her balance grow fastest and she was disappointed not to have access to them when he first started saving.  Based on just the savings from her first year in graduate school, at the end of her PhD (age 30) she has $5,450.77 in a non-tax-advantaged account.  She is offered a job paying $80,000 per year, of which she saves 15% into her 401(k).  Assuming she starts working in July, she plans to contribute $6,000 to his Roth 401(k) in the first calendar year she has his job, leaving $11,000 of contribution room (2012 levels).  She decides to take the full balance of her brokerage account and put it into his Roth 401(k) in the first year.  Based on just how that portion of the money grows, the money saving during her first year of graduate school will be $ 88,806.94 at age 65.  In this case, the additional contributions at the outset well outweighed the few years that the money spent outside of tax-advantaged accounts.

Another consideration is that because Angela paid in to the Social Security and Medicare systems during graduate school, she may receive more benefits in retirement.  I will consider this benefit negligible as the program, if it even exists, will have gone through major reforms by that time.
So it seems that Coretta comes out ahead by far!  But how likely do you think it is that students behave like Bertrand and Coretta and save all of the pay they might otherwise have paid in payroll taxes?  Darcy and Edmund didn't – they both saved only 10% into non-tax-advantaged accounts.  Darcy followed Bertrand's path of leaving the money be and Edmund followed Coretta's path of getting the money into a tax-advantaged account as soon as possible.

In this case we can see that having the money in a tax-advantaged account for even a few additional years boosts the account balance slightly.
We should consider some qualitative factors in these situations as well.  I find it unlikely that students will put all of the 7.65% income boost into retirement accounts, mostly because they would not view it as an income boost but just their normal pay.  In my observation and discussions with administrators at my university, earlier-stage students are more likely to be paid by fellowships/1099-MISCs than later-stage students.  Therefore it is more likely that an individual student will start off not having payroll taxes removed from her paycheck and may not even realize that she will owe those taxes when she transitions to a W-2.  If students do not sequester that 7.65%, they are able to enjoy a slightly higher standard of living than their peers with the same salaries being paid with W-2s.  So for those who don't believe it is important to save for retirement while in graduate school, the 1099-MISC is clearly better.
If we assume, though, that some subset of students would like to save for retirement, I suspect that those "earning" income would be more likely to follow through on those inclinations because they have access to tax-advantaged retirement accounts.  Students without earned income who wish to save for retirement may be discouraged from saving or confused by their options, resulting in a lower savings rate.  So perhaps it is advantageous for less-committed savers to receive a W-2 because saving "for retirement" is more straightforward.
Strictly by the numbers, though, the best person to emulate is Coretta – by far.  Her balance is over four times that of Darcy, who also receives a 1099-MISC.  Save early, save often, and save into tax-advantaged accounts.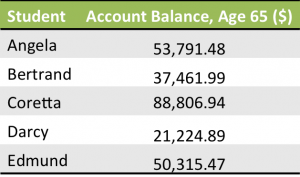 My advice for those receiving 1099-MISC who want to save for retirement is to save that extra 7.65% that you would otherwise be taxed and transfer that money into tax-advantaged accounts as soon as you have access to them.  If you have substantial savings from graduate school in non-tax-advantaged accounts, it may take a few years to fit all of that money into the contribution room you have left in your 401(k) after your normal yearly retirement savings, but keep in mind that you can open an IRA as well for an additional $5,000 in contribution room and use the accounts available to your spouse, if applicable.  This approach has the added advantage of creating a budget that is already prepared for an increase in taxes (upon transitioning from a 1099-MISC to a W-2), a subject I will discuss further in a future post.
Would you take an income boost if it meant you couldn't have access to a tax-advantaged retirement account?  Does your situation most closely resemble that of Angela, Bertrand, Casey, Darcy, or Edmund, or a non-saver? Would you ever consider saving money that would normally be taken out in taxes? 
Filed under: budgeting, retirement, taxes · Tags: 1099-MISC, earned income, pay boost, saving, taxes, W-2