So, graduate school kind of sucks – especially Ph.D.s because they go on forever.  (Can you tell I've been at it a while?)  However, there are definitely some financial benefits to being in school, particularly the kind of school that pays you to be there (though not nearly as much as we'd be getting in the real world).  Kyle and I collaborated on this list, but we're represent a small slice of grad student experiences.  Please add your observations below as I'm sure experiences will vary!
Awesome
1. student discounts at various retailers – movie theaters, museums, cell phones, apartments, car insurance, software, local stores and restaurants
2. student checking accounts – depends on the bank, but usually free checking with no minimums
3. residency choice – parents' state or current state?
4. student loan deferment!
5. cheap or free entertainment on campus – movies, theater, lectures.  at minimum, the PhD movie!
6. free Amazon (affiliate link – thanks for using!) Prime (well, not any more – just discounted)
7. free food at seminars, receptions, and departmental events
8. getting paid with a 1099 MISC instead of a W2 – don't have to pay Social Security/Medicaid taxes [UPDATE: in either case, grad student stipends shouldn't be subject to FICA taxes]
9. the library (including free access to journal articles)
10. subsidized gym membership including classes
11. subsidized or free sporting events tickets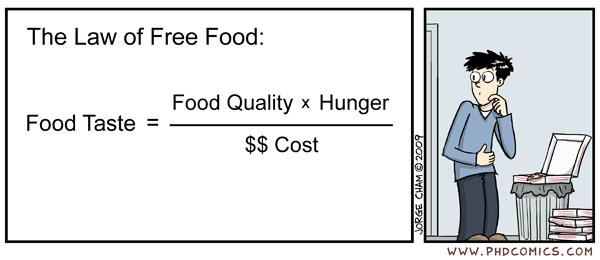 Terrible
1. not eligible for retirement contribution tax credit for low income earners
2. not permitted to have a second job
3. not eligible for employer-based retirement program (meaning no match)
4. getting paid with a 1099 Misc instead of a W2 – no one believes this is "earned income," which is what you need to contribute to a Roth
How does being in graduate school affect you financially?  Is it a net positive?
comic by the venerable Jorge Cham
Filed under: budgeting, grad school · Tags: discounts, grad students