One of the important components of the All Your Worth Balanced Money Formula is the Dream Fund.  Of the 20% of take-home pay that is supposed to go toward savings, 25% of it is for your dreams – aside from retirement and all of that.  When I was a kid I thought I would want to own a beach house.  Maybe some other people want a plane, an around-the-world cruise, or to pay for their grandkids' college educations.
While we do broadly follow the BMF, we're not saving for any dreams right now.  (I think the BMF is quite light on long-term savings so we save more than the 10% recommended.)  Part of that is that our future looks very fuzzy beyond graduation – we don't really know where we'll live, how many kids we'll have, when we can buy a house, or a lot of other things.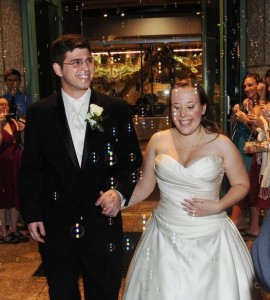 But I realized that I do have one dream for the far-off future.  It's not something that we should start saving for now, but probably only a few years in advance.  Kyle and I got married a couple months before we turned 25 (we were born in the same month and year), which means that our 25th wedding anniversary and our 50th birthdays fall in the same summer.  And I want to have a GIANT party to celebrate those milestones – a wedding-scale blowout that our friends and family will fly in for.  I'm not sure if the party would actually include a vow renewal but that would be an option.
I've written before about what a high priority we place on attending weddings, and that's really because we want to visit, feel connected to, and celebrate with our friends.  And I want a second chance at having a big reunion-type event where we can acknowledge many of the people who have loved and supported us through the years.
So that is my dream!  Not necessary to start saving right now but I hope to recall it a few years in advance of that summer so we can begin saving and planning.  If babymaking goes as we expect, our kids might be in their late teens to early twenties, so we'll likely be saddled with some college expenses but hopefully not expenses for their weddings yet.  Plus, if we get this party to celebrate our marriage and birthdays, we won't be tempted to add our friends into our children's wedding guest lists.
What is your far-off dream and when do you think you'll start saving for it?  Do you plan to celebrate any birthdays or anniversaries in a big way?
Filed under: goals, luxuries, marriage, personal, values · Tags: dream fund, party, reunion, wedding