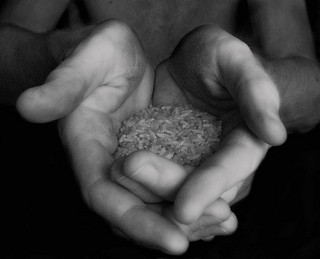 My church put on a financial boot camp this past weekend, the content of which largely followed Dave Ramsey's baby steps, along with additional Biblical support for a debt-free generous lifestyle and some fun mathematical examples of the power of compound interest.  But one of the volunteers mentioned a principle that he and his wife live by: his savings rate does not exceed his giving rate.
I admit that I was surprised to hear this come out of a financial professional's mouth, even speaking in the context of a ministry volunteer.  I had never heard or read this suggestion through years of absorbing personal finance media and several studies of what the Bible says about money.
However, it was something I had wondered about myself.  We tithe and give offerings, but the total percentage of our income that we give is about five points less than what we save for retirement.  Does this make us guilty of "storing up for [our]selves treasures on earth, where moth and rust destroy, and where thieves break in and steal" (Matthew 6:19)?
One reframing quote that I heard during the workshop that I appreciated was that "giving" should be thought of as "investing in the kingdom of God."  In that sense, we are investing more in our earthly treasures than we are in God's kingdom.  Is the action of investing that extra 5% for our long-term future different in some way than spending it in the now, in terms of comparing it to our giving rate?
We don't have any plans to greatly alter our long-term savings or giving rates, but this session definitely gave me something to think about in terms of a method of evaluating our priorities.
Have you ever heard the suggestion to give more than you save?  Which do you do at a higher rate, and which is accelerating faster?  For those of you who don't give close to 10%, does this sound crazy?
photo from Mr. Kris
Filed under: giving, retirement, savings