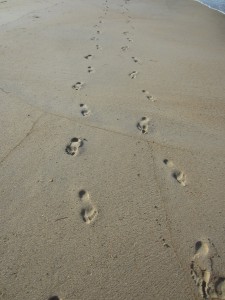 Spent the week relaxing in the Outer Banks with Kyle, my parents, and my siblings!  Nice vacation in advance of this craziness over the next two weeks: moving, preparing for and giving lab meeting, and starting classes!
Posts I Liked
Kraig from Young, Cheap Living explained very well all the reasons that he tracks his (and you should track your) spending.
Jason from Work Save Live explains how to set up a functional budget with a highly irregular income and the importance of a big savings buffer.
Congratulate John from Married (with Debt) on becoming Married ()!
G.E. Miller from 20 Something Finance expressed his trepidation about pairing up with someone who doesn't share your financial values and goals and listed five ways to start a conversation on those topics.
Peter from Bible Money Matters shares what several PF "gurus" suggest you should spend on a house/mortgage and where his family is in the process of planning to buy.
Corey from 20's Finances tells us to reframe the questions we ask concerning retirement when we are young.  Save as much as you can as early as you can!
Mentions
Justin from The Family Finances included Financial Disclosure Before and After Engagement in his friends of the family.
Carnivals
Our Hang-Dry Laundry Strategy was featured in the Festival of Frugality #349.
My New Frugal/Cheap Cell Phone Plan was featured in the Carnival of MoneyPros.
Top Comment
My Money Design brought up a new angle for to my suggestions on financial disclosure before marriage, saying "I think it's kind of selfish to hold out on other people with this kind of info. When you're getting married… Why sabotage the relationship by not disclosing this info ahead of time?"
Most Frequent Commenters
Heather
Top Blogs Referring to EPF
Filed under: weekly update · Tags: beach vacation