I'm in Atlanta right now for a scientific conference so you are getting a work-travel-related question!
On this trip, my major expenses (conference registration, hotel) were paid for me and I have to pay my minor expenses (food) up front and then I'll get reimbursed after I get back.  When I attended a conference while working for the government, though, my major expenses were paid and then I received a generous (to my standards) per diem for food.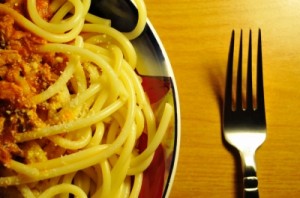 At a dinner on this trip, my companions made some comments about ordering slightly more expensive dishes than they normally would have because we weren't spending our own money.  I didn't upgrade my choice, personally, although I certainly acknowledge the incentive.
The trip with per diems gives the opposite incentive – to order a less expensive meal than normal and pocket the excess cash.
I think in both those situations I still just ordered what I would have if I had been paying my own way, but my mind was still encumbered by the incentives.  On this trip, I don't want to over-order because something might still go wrong with the reimbursement or there might be some rules I overlooked – because the money isn't yet in my bank account, I don't want to count on it.  On my previous trip, I didn't want to cheat the per diem system by cheaping out on the meals and diverting the purpose of the money!  The same principle applies whenever you can make choices when someone else is paying – gas reimbursement, shopping trips, gift cards, etc.

Loading ...
When you're not paying, do you order a more expensive dish?  How does your thinking change with reimbursements vs. per diems when you travel for work?
photo from Free Digital Photos 
Filed under: choices · Tags: per diem, reimbursement, work travel