Becoming a finalist for The Blogging Scholarship (vote for Emily!) has really motivated me to get my act together around here regarding attracting more readers, generating higher quality content, and making some money.  My goal is to have some ads and other changes up and running by Jan 1.
Just yesterday I had lunch with a fellow grad student and we stumbled upon a question that I'm sure many grad students do regarding taxes and residency.  If you have a question regarding PF, for grad students or otherwise, that you would like me to look into, please leave a comment or email me.
This is my one-month update on how EPF is doing based on our October 16 – November 15 data.  This month has definitely gone better than last month and toward the end we've gotten a boost from people clicking through from the blogging scholarship website and my aggressive Facebook and Twitter promotions.
Search Terms
Let's lead off with silly search terms (from real people, not bots):
can a person live off of a $60000 salary?
opening a roth ira for dummies
spend a month's salary in clothing –engagement
relevant wedding photos
sleeping on the floor benefits
ordering water at a restaurant rude
And here are some search terms that warm my heart:
how to save for retirement in graduate school
get out of debt prior to getting married
how do spendthrift men think
People who listen to us, as of November 15, 2012
RSS subscribers: 97 (-10)
Twitter followers: 136 (+26)
Facebook fans: 25 (+2)
Rankings
Alexa: 202,710 (+6,347)
Google PR: 2 (no change)
MozRank: 4.84 (-0.07)
Some Google Analytics statistics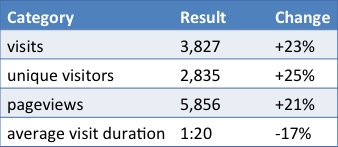 Popular Posts
Most viewed posts:
1) Average Clothes Spending and Pattern
2) How to Move Out on a Shoestring Budget
3) Earned Income: The Bane of the Graduate Student's Roth IRA
4) What Do You Consider a Good Salary?
Most commented posts:
The Great Debate: 15-Year vs. 30-Year Mortgages
Do You Spend More If It's Not Your Money?
Adding Credit Cards – How Many Is Too Many?
Tax Lies Told to Graduate Students
How was your most recent month?  What search terms leading to your blog do you love to see?  Why the heck do you think people are so interested in the average spending on clothing??
Filed under: blogging, month in review · Tags: popular posts, search terms