Somehow I thought that doubling our income would solve our irregular expenses problems, but I guess I was wrong!
Our targeted savings accounts were our budgetary saviors during grad school. Our income was pretty low, so irregular expenses like plane tickets and car repairs would have totally overwhelmed our available cash flow in a given month. Our targeted savings account converted large irregular expenses to small regular expenses and helped us plan, save, and make spending decisions.
This month is the first one in over a year that we've set up a line item budget for ourselves. Our last budget before this was my last month as a graduate assistant at the end of summer 2014. That was the month that we disbanded the targeted savings accounts we had used in grad school because we were embarking on a year of irregular income and expenses. So we were sort of flying by the seat of our pants this past year, drawing down our cash savings to be able to keep saving for retirement despite our low and fluctuating income.
Anyway, when we decided to move to Seattle I picked a price range for our rent that would be reasonable on Kyle's new income alone, and with that "big rock" taken care of (and no commuting costs!) I felt confident that our budget would be well under control. And the first draft of our budget was promising. After accounting for all of our saving goals and regular fixed and variable expenses, including a nice increase in expected spending due to the higher cost of living and a little lifestyle increase, we still had several hundred dollars of unallocated cash flow each month.
Then, I decided to take a stab at predicting our irregular expenses – just to make sure we were going to be able to cash flow everything with no issues. That brought reality crashing back in! Across just five categories – Cars, Travel, Gifts, Appearance, and Electronics – I predicted we would spend almost $12,000 over the next year! Not only was all of our unallocated cash flow eaten up, but we chose to scale back our savings goals from aggressive to normal-for-us to make our budget balance.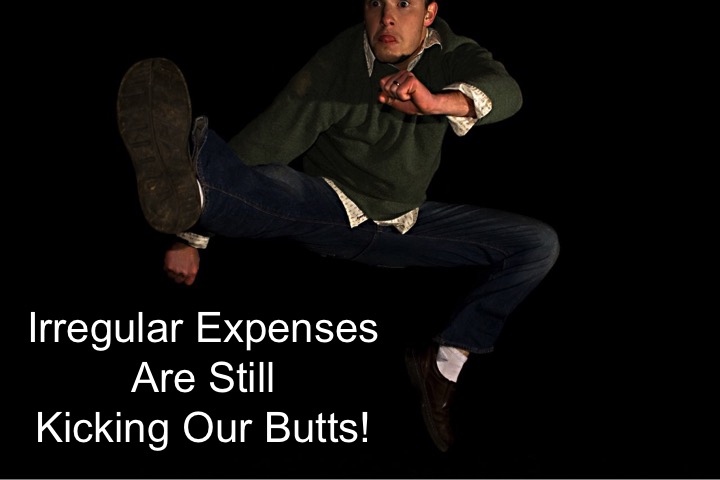 Looking over why we expected to spend so much money over the next year, the big culprits are:
a new desktop computer for Kyle
a new laptop computer for me
a vacation
Those three items together are predicted to cost $4,800! What they have in common is that they all represent delayed gratification from grad school. I've been telling Kyle for over two years that he could buy a new desktop when he got a job. I'm getting to be slightly overdue for a new laptop time-wise, and my current one is signaling that it's getting close to pooping out. And we still haven't taken a trip/vacation with a destination of our choosing since our honeymoon! (As wonderful as our cross-country trip was this summer, its primary purpose was moving our car.) Maybe that planned spending could be considered lifestyle inflation, but I think for us it is a reasonable lifestyle increase.
After realizing that our irregular expenses were likely to take up almost $1,000 per month on average, we decided to re-implement a version of our targeted savings accounts. We won't have literal separate accounts this time around, but rather let our checking account balance rise and fall (we started keeping a large buffer in it a few months ago) while manually tracking the irregular expenses in the five categories I mentioned to make sure our predictions were reasonable. I hope that we will have over-estimated our spending in these categories so that we can end up transferring some extra money into savings.
In our monthly budget review posts up through September 2014, I reported transfers in and out of our individual targeted savings accounts. Starting this month, I'll just list a dollar figure of how much we spent in the targeted savings categories against the average expected over the course of this year.
It turns out that increasing your income doesn't solve all your money problems – especially when your expenses increase in turn! It looks like we won't get away from the intensive budgeting habit anytime soon.
How to do handle irregular expenses in your budget? What was the last delayed gratification purchase you made?
photo by Michael Sarver
Filed under: targeted savings · Tags: irregular expenses, targeted savings