I realized last month that Uber has become my default mode of transit to and from the airport – to the point that it doesn't even cross my mind that there are other possibilities! Confession: We spent $175.64 getting to and from the airport last month (4 rides), which is as much as we spent on one plane ticket! I can't believe I've let my lifestyle inflate to this degree – I'm so embarrassed!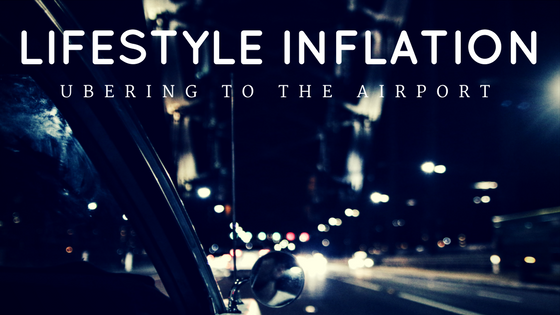 This lifestyle creep all started with my speaking engagement travel. In the first year of my business, I commuted to and from the airport by whatever means was most reasonable and cost-efficient for the particular trip: public transit (bus and light rail), taxi, Uber, or my own car. Some of my clients were particularly cost-sensitive so I did my best to minimize my travel costs. But in my second year, after DPR was born, I started Ubering just about all of the time. (At least I wasn't taking taxis any longer!) I wanted to leave our car at home in case DPR needed transportation somewhere so driving and parking was out. I largely stopped using public transit because my flights were nearly always very early in the morning or very late at night when the buses do not run frequently. Ubering is fast and convenient and doesn't seem to bother my clients, so it became my default mode of transit.
The bad part of all of this is that we let my business travel habits bleed over into our personal travel habits. The first two times we traveled with DPR, we carefully considered our travel needs when deciding how to get to and from the airport. On our first trip we didn't need to bring her car seat, so we used public transit to get to and from the airport. On our second trip we did need the car seat and didn't want to lug it on public transit, so we Ubered. By the time we traveled in April with the car seat, all thought of using public transit was gone and the fees really racked up.
A better plan would have been to judiciously use Uber when we needed expediency (one leg only) and use public transit the rest of the time. We arrived home from our trips right around DPR's typical bedtime, and while it wouldn't have been ideal she could have slept on public transit. Had we followed this plan, we would have spent only $55.09 on ground transit to and from the airport. We also could have considered parking at the airport. At $30/day, airport parking is approximately as expensive as Ubering for a long weekend; however, there are off-airport lots (that we've never used) that are less expensive.
Last month's Uber expenses were a big wake-up call. It's so easy to spend money through the app that we were dulling the pain! Next time around, we will consider how we're getting to and from the airport before even booking flights and commit to using public transit whenever possible.
Has a ride-sharing app crept into your lifestyle? Do you travel different for business vs. personal trips?
Filed under: lifestyle creep, travel · Tags: travel, Uber