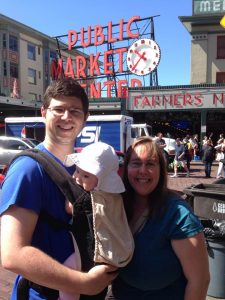 If April was defined by our travels, May was defined by our houseguests. Several members of my family came to visit us on two occasions, which really seemed to take over our month. It was wonderful to have them around, though, and they had a ton of fun with DPR. We did end up overspending on groceries because we provided just about all the meals for our guests. We mostly hung out in our apartment and at parks (DPR loves to swing), and we headed to Pike Place on one occasion to try some of the restaurants.
One of our miscellaneous expenditures this month was two zoo memberships. There aren't too many activities that one-year-olds can participate in, but the zoo is alright. I visited twice this month and Kyle visited once, so we are about halfway to getting our money's worth for buying the memberships over paying for individual visits. Thankfully some of our friends with babies have memberships as well so it can be a good group activity.
Regular Fixed Expenses
Rent $1495
Water/Sewer/Garbage $130
Internet $74.45
Student Loan Minimum Payment $99.67
Netflix $10.74
Cloud Backup $5.99
Regular Variable Expenses
Power $152.13 ($60 budgeted): Slightly over budget but thankfully decreasing!
Groceries $847.77 ($600 budgeted): I'm blaming this overage mostly on feeding our houseguests! And perhaps a little stocking up on frozen food and household supplies.
Restaurants $14.44 ($100 budgeted): Kyle bought one beer at one happy hour and a snack while visiting Pike Place.
Gas/Parking/Public Transit $74.46 ($60 budgeted): Three partial fill-ups and parking at Pike Place.
Phones $64.25 ($65 budgeted): Two smartphones with large data plans! Kyle uses Cricket Wireless and I use Republic Wireless.
Miscellaneous $105.50 ($33.48 budgeted): We bought two memberships to the local zoo for the year and I paid some library fines.
Bottom Line
We spent $3,014.61 of $2,734.33 available. This is going against the buffer in our checking account and will be refilled ASAP.
Targeted Savings
Cars
Starting Balance $637.91
Saved $79.44
Spent $0
Travel
Starting Balance $922.45
Saved $450.00
Spent $0
Gifts
Starting Balance $360.55
Saved $95.00
Spent $0
Appearance
Starting Balance $338.48
Saved $30.00
Spent $294.10: I bought a bridesmaid dress and paid for my wedding make-up.
Electronics
Starting Balance $1,040.03
Saved $42.86
Spent $0
Baby
Starting Balance -$53.15
Saved $0
Spent $209.61: We bought formula for DPR for the LAST time! And paid four copays from provider visits in March.
Insurance
Starting Balance $474.99
Saved $108.33
Spent $0
What do you do when family and friends visit you? Do you have any entertainment subscriptions in your city?
Filed under: month in review