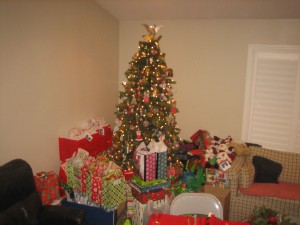 Christmas 2010 was a financial disaster.  It was our first Christmas as a married couple and we had major clashes over gift-giving philosophies that resulted in higher-than-usual spending for both of us.  We also flew to CA – our largest single expense.  When I tallied it all up in January I resolved that we wouldn't let another year play out that way.  I completely lost focus on "the reason for the season" and got caught up in stressing out over the money.
I'll write about the specifics when I compare this year to last dollar-for-dollar after the 25th; for now I'm just going to outline our plan for this year.
(Note that we are buying gifts for about 20 recipients who live across the country from us and we won't physically be with them this season.)
1) Cap gift spending at $10/recipient for extended family members and $50/recipient for immediate family members.
2) Order as much as possible through amazon using amazon Prime to eliminate shipping costs (and get the perk of 2-day shipping).
3) Give away 25% of the amount of money we spend on gifts.
What are you doing differently this year as compared with last year?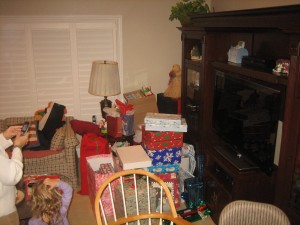 photos from Christmas 2010 at Kyle's parents' house