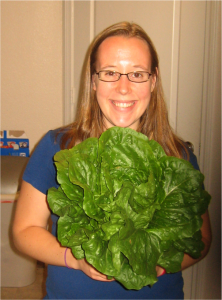 I have mentioned our CSA on here a couple times and I am a big proponent of CSAs.  I absolutely love ours – the food is better-tasting than what we can get in the grocery store and it has exposed us to many new foods (Swiss chard, collard greens).  Many people ask me what a CSA is so I thought I'd write a little primer.
What is a CSA?
A CSA (or Community Supported Agriculture) is basically a share of a local farm's yield.  In a traditional CSA model, a customer pays up front for a season's worth of produce.  For every week of yield, a pre-set fraction is collected for each customer.  The type of produce you receive depends on where you live and what the farm chooses to grow.  Once per week the customer picks up their share from a designated location.  The length of the subscription will depend on the length of the growing season where you live, but could be several months up to year-round.
Are there other types of CSAs?
The traditional model is the most common, but there are variations.  Many farms offer sizing options – for instance, a full share or half-share, or a family (full), couple, or individual share.  CSAs often offer more than just fruit and vegetables – they may have dairy and meat options as well (the hot sausage offered by our CSA is my favorite item!).  Our CSA also allows us to choose the foods we receive in our weekly box and their amounts.  Every week we receive an email with the food available and the item prices and we reply with what we want in our box, meeting our minimum weekly price.  (This is essentially pre-shopping the farmer's market and I love this model.)
What are the benefits of subscribing to a CSA?
The universal benefit is that by subscribing you are supporting a local farmer with your dollar.  Most farms that have CSAs are organic or close to it so there are many environmental and health advantages.  The produce is fresher than what you'll get in a grocery store, so while it might not be as attractive it will likely be tastier.  Whether or not there are financial benefits depends on the exact market and what foods the CSA will replace in your diet/budget.  If you already buy organic foods from your grocery store you may see a price drop, but if you normally buy conventional products you may be paying higher prices, especially if you are buying meat or dairy products.  Personally for our habits we are not spending less money on food overall.
What are the downsides to having a CSA?
A traditional CSA does not allow you to pick the foods you get in your box so you must receive what the farm chooses to grow.  (This may also lead to frustrated Google searches trying to figure out the name of the strange vegetable you received and how to cook it.)  You are also limited to what the climate and soil in your local region are capable of growing.  Some CSAs also may not be flexible if you forget to pick up your weekly box or are out of town – you may just lose your share for that week.
One of the problems we have run into is that sometimes we waste produce due to not knowing how to cook some of the items, not having room in our refrigerator for the whole haul, or letting some of the produce languish too long in the refrigerator.  We run into the same problems (to a lesser degree) with any produce we buy, but the issue with a CSA is that you get so much at one time that it can be difficult to eat through in a timely fashion.
Where can you find a CSA?
1) Local farmer's market.  It's likely that at least a few of the farms that come to a farmer's market will have CSAs.  Just talk to a few farmers about whether or not they have CSAs and what they provide at what price.
2) Internet search for CSA and your city name.  This is how we found our farm.  You'll probably find a lot of results but will need to filter by the pickup location and date.
3) Local sustainability organizations.  I found the website for my university's sustainability initiative to be very helpful in finding local farms.  It listed all the farms that had CSA pickups on-campus.  A sustainability organization in your area may be similarly organized.
What are you experiences with a CSA?  What are the most impactful benefits and detriments?
Filed under: food · Tags: community supported agriculture, farmer's market, organic, produce