Very early in your spending-tracking or budgeting lifestyle, you will realize that food spending is one of the most highly variable and easily manipulated expenditure categories.  If you're looking to reduct your spending, food is often the primary target of budget slashing, and for good reason!  There are lots of ways to cut back on food spending, from temporary fasts from certain products to long-term lifestyle changes like cooking.
Take a moment to look up your city and family size on this cost-of-living calculator.  How does what it estimates is necessary for food spending compare with what you spend?  (We're right in the range.)
Perhaps you had a wake-up call that you are spending way too much on groceries or are just looking for ways to be a bit more frugal.  Some of these tips in this post are going to be better-suited for those who prefer a drastic, immediate change and others are better-suited for those who prefer gradual change.  It will be helpful to know which you are going in to making major cuts in your grocery budget.
There are four overarching ways to cut down on grocery spending:
reduce waste
spend less on the same food
buy less expensive food
add your own value
The suggestions in this article will fall under one or more of these categories (see table below).  If you have only tried out the strategies in one or two of the broad categories, you should branch out into another one to realize further spending decreases.
There are many synergies in this list!  You may get more not-spending out of using several strategies together than just by the sum of the parts alone.  For example, you can meal-plan with that week's sales and coupons and a list of in-season produce in front of you.  Websites like couponmom or subscription services like emeals can reduce a lot of the workload by gathering the sales and coupon data for you.  Compiling a pricebook for the various types of food retailers available to you will help you make lists as to what to buy at which retailer.
I have color-coded the suggestions according to whether the strategy is relevant to planning your shopping, what you can do at the store, and what you can do at home.  I have ordered this list from most impactful suggestions to least impactful (in my opinion).  That way if you get tired and can't read them all (there are 24!) you can just stop and not worry that you've missed anything good!  Also skip to the end to add your own strategies.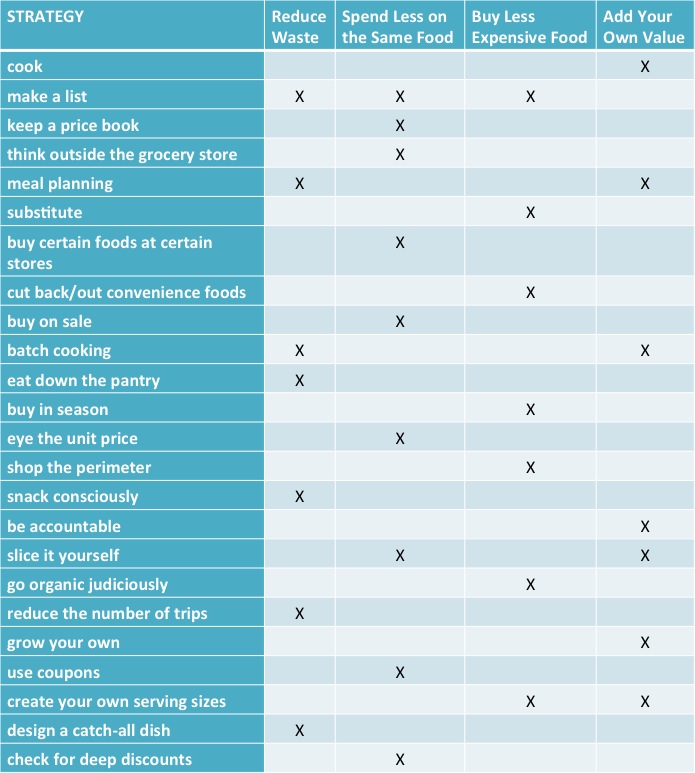 Cook.  In nearly every circumstance, cooking your own food will be less expensive and healthier than what you can buy pre-made.  You don't have to put together a new gourmet dinner every evening!  Slowly build up your wheelhouse of recipes if you are starting from scratch, and pick recipes with minimal components for simplicity.  I have a personal goal of trying one new recipe per month.  I eat many meals that require only 10 minutes and a few ingredients to prepare, some of which hardly fall under "cooking" but rather "food preparation."  For example:
scrambled eggs
sauteed spinach (ingredients: spinach, garlic, olive oil, and Parmesan cheese)
tuna, avocado, and mayonnaise
oatmeal and peanut butter
tomato with mozzarella and basil
broccoli with cheddar cheese
bacon quesadilla (ingredients: high-fiber tortilla, cheddar cheese, bacon)
Make a list.  This is food shopping 101!  A list forces you to determine what is a "want" and what is a "need" before you have thousands of options in front of your face at the grocery store.  Buying everything on your list will help you execute your planned recipes in a limited number of trips to the store.  Only buying items that appear on your list will help reduce waste and prevent you from falling victim to enticing advertisements and delicious samples.
Keep a price book.  A price book is simply a list of food items you typically buy with prices and unit sizes, including the retailer and date purchased.  While it takes a bit of time, a price book is massively helpful for determining 1) which retailers regularly offer the best prices on each food and 2) what the sales cycles are at your grocery stores.  (Personally I have only used a pricebook for the first purpose.)  In my observation, stores like Costco and ALDI have generally fixed prices that are lower than same items in grocery stores, unless the grocery store is offering sales or coupons.
Think outside the grocery store.  I used to only visit the grocery store most convenient to my home until I realized that other types of retailers often offer better prices for the same or similar products.  Other options are (affiliate links – thanks for using!):
Many of us have misconceptions about these different types of retailers that prevent us from trying them out.  I used to think that I couldn't buy in bulk from Costco because I wouldn't be able to go through all the food before it went bad, but now I know what products we can buy there that we can eat in a reasonable time period.  You might have a stereotype about the people who shop at ALDI that you could dispel by actually visiting.  You don't know that one of these stores won't work for you until you try it!
Meal planning.  This is going to be a big win for families and those who need variety, are prone to waste, and are susceptible to eating out on a whim.  Very simply, you plan out what meals you will eat over the course of a week to a month so that you can prepare well (combining your lists with sales or coupons) with your shopping and food preparation and execute the cooking in a predictable amount of time.  This also works very well for those who look to balance their days among food groups or macronutrients.  Personally, I don't meal-plan, because I go through very slow cycles of eating basically the same thing every day.
Substitute.  If you are accustomed to buying higher-priced food (fish, steak), ask yourself how you can cut back on those foods and eat more lower-priced food while still meeting your nutritional goals.  One of Dave Ramsey's catch phrases is "beans and rice, rice and beans" and it's true that staples such as these are quite easy on the budget.  Some of my favorite low dollar per calorie healthful foods are eggs, pork, squash, oatmeal, canned tuna, and chicken thighs.  Certainly you should try the store brands of the packaged foods you buy if you usually buy name-brand (unless you always get the name-brand on sale/with coupons).  Another great idea if you're a big soda drinker is to invest in one of those refrigerator carbonators so you can make your own fizzy drinks instead of buying cans or bottles.  I had a friend who realized when she switched that she didn't even want the taste of soda as much as the carbonation and now just drinks carbonated water.
Buy certain products at certain stores.  There's a balance between spreading yourself thin visiting too many stores each month and buying the lowest-cost products at each store.  If you visit a store that's generally good for pantry items that will last a long time, make a list so you can visit that store less frequently and buy everything you need at one time.  Use your pricebook to determine what you should buy where.
Cut back/out convenience foods.  Depending on where you fall on the frugality spectrum, this could mean anything from passing up the hot food bar at the grocery store to buying dried beans instead of canned.  The point is to put time and effort into your food instead of additional money.
Buy on sale.  In all likelihood, your local grocery stores publish weekly advertisements of their sales in your newspaper and online.  I like to just glance at the advertisements when they come out to see if the foods that we typically buy are on sale and check if the grocery sale prices can beat the warehouse club or discount store prices using my pricebook.  Pick up the meat or vegetables that are on sale that week and create your meals around them.
Batch (and freezer) cooking.  These methods are going to save you money, time, and stress.  You invest a chunk of time into preparing food on one day so that you can eat it whenever you like over the next week or two.  Having meals ready on hand that just need to be heated reduces the likelihood that you'll break down and buy convenience food or take-out because you're short on time or ingredients.  It will also reduce waste if you use all of a certain food or ingredient that you buy instead of leaving part of it for later.  I enjoy using our slow-cooker to make chili and split pea and ham soup, each of which can produce 8-10 servings.  In fact, whenever I make a meal I try to make at least 1-3 extra servings to eat over the next few days.  Just this week I have made extras of flaxseed meal pizza, hamburgers, and tuna salad.
Eat down your freezer/fridge/pantry.  This is a great suggestion for those willing to make drastic change overnight!  Chances are that your fridge and pantry are filled with food.  If the only reason you haven't eaten it yet is that you prefer variety, it's time to get cracking.  Eating down your current stock of food will enable you to fast (or close) from buying additional food.  Give yourself a crazy-low food budget for two weeks or a month and concentrate on eating the food you already have before it's wasted.  This would also be a fruitful exercise for the beginning or end of every month, so that food items don't get lost and expire in your stores.
Buy in season.  When a certain type of produce is plentiful locally, its price will likely drop.  Shift to eating more strawberries and spinach in the spring, blackberries and corn in the summer, and pumpkins in the fall, or whatever is applicable for your area.  Flexibility to buy whatever is freshest and bountiful will pay off in savings!
Eye the unit price.  Most often, buying food in larger quantities will be cheaper, which you can tell by checking the unit price, not total price, on the store label (per weight, per package, etc.).  Two exceptions: 1) Very occasionally, a smaller quantity will cost less than the larger if there is a sale or something. 2) If you end up wasting the food, it wasn't worth paying more to get the lower unit price.
Shop the perimeter of the grocery store.  We've all heard this one!  Only buying from the perimeter of the grocery store is a good rule-of-thumb way to prevent yourself from buying the more processed food options.  Plus, if you are susceptible to advertising, the more processed/higher priced food in the center aisles will be out of sight, out of mind.
Snack consciously.  This one comes from Kyle!  It's a great tip for both money and calorie conservation.  There are certain foods that you can really run through if you eat them mindlessly, like chips, because they don't fill you up despite providing a lot of calories.  Combine excessive snacking with frequent shopping trips and you have a recipe for going through multiple snack bags per week without really savoring them.
Be accountable.  Develop a relationship with someone with whom you can share your goals who will give you a bit of a hard time if you don't follow through.  Or post it with the internet like I and so many mommybloggers do!  Just knowing that you'll have to admit to someone that you exceeded your grocery budget will spur you to find creative ways to stretch your dollars (or pantry stock).  Find someone who will be excited when you stick to your list, spend less for the same product, and try a new recipe for an in-season ingredient.  I have found local frugal friends to be very helpful in providing tips specific to our city.
Slice it yourself.  Instead of buying pre-cut or otherwise prepped foods, buy the item whole and do the preparing yourself.  An easy example is pre-cut fruit – it's wildly overpriced and you can buy just as much for far less if you're willing to cut open a pineapple or melon.  This applies to vegetables as well – think baby carrots!
Go organic judiciously.  I hope we've all heard by now of the clean fifteen/dirty dozen and similar lists.  If you're currently buying lots of organic/free range/pick your label food, take a moment to evaluate whether or not you need to buy every variety of food with a certain label or if some conventional foods will fit both your environmental/nutritional and cost goals.
Reduce the number of trips to the store.  I think that the more trips to the store you take, the more money you will spend overall (assuming adequate food storage space at home).  If you're buying a couple items every day or two you'll be forever tacking on extra purchases to those trips, and any item that you didn't know you needed before you saw it wasn't really needed – you could have gone without it for a couple days or it might even end up wasted.
Grow your own.  If you have access to land or are willing to invest in a balcony garden, replacing some of your groceries with garden items has the potential to prevent spending.  Really consider if gardening will fit in with your lifestyle, though, and do your research so that you can attempt to break even or replace some of your food costs in your first year.  If you cook with fresh herbs often a few small plants could be a great investment as the grocery store versions are usually overpriced and over-volumed.
Use coupons.  There are coupon lovers and coupon abstainers – I'm a 98% abstainer.  It takes a bit of work to get a functioning coupon system running but once you're accustomed to it I'm sure it really helps save money on highly processed food and non-food items you can buy at the grocery store.
Create your own serving sizes.  Often you will find savings by buying in bulk, but you can also save by buying foods with less packaging.  For example, instead of buying individual yogurt containers to bring with me to work, I used to buy a large container of yogurt and divide it among several small screw-top containers when I got home from the store so I could grab-and-go when gathering my lunches in the mornings.  You can do this for anything where you have both an individual-sized and bulk option: nuts, crackers/chips/pretzels, applesauce, jello/pudding, cookies, oatmeal…
Design a catch-all dish.  My father and Kyle are great at this!  My dad throws leftovers together in a pot and somehow makes it come out delicious.  Kyle can take whatever small amounts of various produce we have left over and make a mean stir-fry from it.
Check for deep discounts.  I'm referring to a special rack your grocery store or bakery may have for bruised, damaged, or irregular items or items that need to be sold same-day.  You can often pick up a perfectly usable item for a fraction of the retail cost.  I hesitate to include this suggestion for two reasons: 1) You have to be sure that you're not buying unsafe food or food that will become spoiled by the time you can eat it. 2) This tactic encourages spontaneity, frivolous spending, and even waste.  If you happen to see a good item that you were going to buy anyway, certainly pick it up.  If your personality is such that you are sucked in by discounts and you will buy items even if you don't need them, don't attempt this.
References: The Free Financial Advisor, Yahoo Voices, Kathryn Vercillo, Armour's Answers
Do you have any additional strategies on reducing grocery spending?  Which strategy has made the biggest impact on your budget?  Do you spend more or less on food than the living wage calculator assumes?
Filed under: budgeting, food, frugality · Tags: ALDI, Costco, eating, farmer's market, food, frugality, groceries, saving