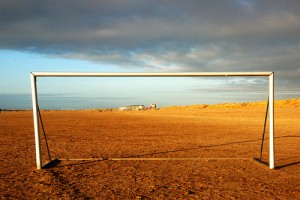 It seems like the blogosphere has exploded with financial, health, and other goals this week – all for the first, I suppose.  I love goals and I love watching other people accomplish them (or admit failure/delay).  However, my husband and I haven't made New Years goals of any sort.  And why not?
1)  New Years is not my favorite time for goal-setting – my favorite time for goal-setting is immediately.   My last two major goal projects (1 year +) were started in November, one within a few days of conception and the other the day after conception.
2)  Despite the name of this blog, our financial situation is fairly static at the moment.  We have our budget worked to the max anyway so there's no extra money to try to accomplish new things and no way to free more up until things shift again.  Nor any desire to.
3)  Our ongoing savings are fairly loose.  We save for travel, general.  We save for entertainment, nonspecific.  When a desire comes up that is reasonable, we can generally indulge without having to name it as a savings goal.
The only goal-related adjustments I might make is to edit my 101 in 1001 list.  I wrote my list in November 2010 and have been chipping away at it steadily.  It's become apparent that I don't really want to accomplish all of the goals ("draw/paint something I'd like to display"?  who was I kidding?).  A few months ago I read Smart Couples Finish Rich (affiliate link – thanks for using!) and I identified my top 5 values: God, marriage, security, health, and community.  I'd like to recast my 101 in 1001 list in light of these values, cutting and embellishing as necessary.
I will definitely share with you all when we do come up with new financial goals.  I'm looking forward to it, in fact.
Why didn't you set New Years Resolutions?  Or if you did, which one are you most excited about?
photo from Arjen van den Broek
Filed under: goals, values · Tags: David Bach, goals, resolutions, Smart Couples Finish Rich, values