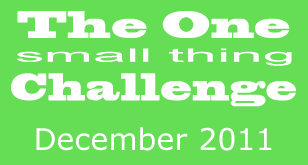 My goal is to do one small thing each month that will have a positive impact on our financial situation.  I invite you join me in this challenge.
Your goal could be small or large in terms of the money involved, but it should be simple and/or straightforward to accomplish.  It could be a component of a larger goal.  There are so many suggestions of how to better our finances available but I'm usually not motivated to complete the actions I know I should in a timely manner.  I put things on my to-do list and without deadlines they just don't get done!  Let's encourage one another to accomplish our goals by the end of every month.
Here are some examples of small goals:
shop around for car insurance to see if you still have the best deal available
open a new savings account for one of your bigger goals and set up a recurring automatic transfer to fund it – for a car, a vacation, a home project, etc.
meet with a fee-only financial planner for a checkup
create a will
check out a discount grocery store in your area to compare with what you're paying now
sell some stuff you no longer use on craigslist or ebay
List your goal in the comments of this post and I'll put up another post at the end of the month where you can report whether or not you accomplished your goal.  You can also use the post to update us months down the line about the impact of your actions.
My goal for December 2011:  Buy and install a programmable thermostat in our apartment.  It's finally getting cold here in NC and I don't want to choose between coming home to a cold apartment and paying through the nose to heat it while we're not here.
What is your goal?
Filed under: one small thing, participation