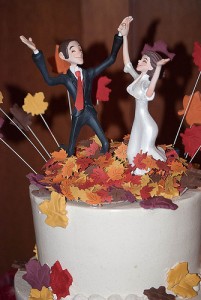 A few weeks ago I was listening to a podcast (I LOVE podcasts.  If you know of some good ones, please add them to the comments.) featuring an interview with Andy Stanley.  For those of you unfamiliar with Stanley, he is a well-known pastor/preacher and author.  The interview discussed Stanley's recent sermon series titled "The New Rules for Love, Sex, and Dating" and at the very end the host asked Stanley for non-negotiables concerning readiness for marriage.  His immediate answer was that both parties should be "completely out of debt."  He reasoned that delaying marriage to pay off debt is a great motivator to get it done quickly and that starting a marriage with debt means that it will be very difficult to get out of debt.  "You carry your same bad financial habits into marriage that you had when you were single."  He cited personal observations that the people who delay marriage to get out of debt develop financial discipline that strengthens their marriage.
I was rather surprised to hear this advice unqualified the way it was.  The only way I can really understand it is by assuming that Stanley was referring to "bad debt" only.  In some sense all debt is bad as you are beholden to another party.  But I rather doubt Stanley would expect a homeowner to pay off a mortgage or sell the property to get married.  Being responsible for a house in my mind is indicative of increased readiness for marriage.
I suspect Stanley really only meant consumer debt – credit cards, loans, cars – because of his later reference to bad financial habits.  Having a mortgage or student loan debt is not usually indicative of bad financial habits if those were really solid investments (certainly I can imagine scenarios where they would not have been).  If this is really what he meant, I agree that having consumer debt is a red flag that should be examined while an engagement is under discussion.
However, I wouldn't go so far as to say that debt must be paid off before marriage or that marriage makes paying off debt more difficult.  I definitely think that any bad financial habits that the debt resulted from should be addressed and hopefully corrected or minimized.  (But we also have to keep in mind that we will never marry a perfect person!  And that even our definition of perfection is flawed i.e. my way is not always the right way.)  However, if the indebted party has been paying off the debt aggressively as a single person I think that it's not necessary to be finished with that process before marriage.
I see Stanley's point that holding out marriage as a carrot at the end of the debt repayment process could motivate faster debt reduction, but it could also delay marriage unduly.  If the fiance(e) of the debtor is willing to enter a debt-repaying lifestyle upon marriage, why delay?  That second income, particularly if coupled with a larger income-to-expenses ratio, would actually enable faster debt repayment.  In fact, having a partner with whom to work on debt repayment could be very motivating and satisfying and actually enhance the bond within the couple.  I think this decision calls for very honest self-evaluation, and either decision – marrying to work together to pay off the debt or delaying to use marriage as a motivator – could work best for different couples.
As I've mentioned before, I had student loan debt when Kyle and I got married.  I had no intention or plan to pay it off before I graduated (several years down the road), although I would have started saving to pay off the debt around the time we married even if we hadn't.  However, Kyle knew that this debt was not the result of "bad financial habits" and in fact I had a lot of good habits I was bringing to the marriage.  We addressed the issue even before we got engaged – upon marriage, we planned to use his savings to pay off my debt, and move forward from there as a debt-free couple.  While that's not exactly how it worked out, the decision-making process that followed unequivocally enhanced our sense of being a team and built our skills in managing finances together.
I don't think that I should have set the goal to be debt-free before we married.  Looking back, I think it would have taken me years – maybe all through grad school and into my first real-paying job – to pay off that debt, even after cutting my lifestyle to the bone.  Meanwhile, Kyle would have been living in relative luxury with a huge stash of savings.  What sense does that make?  Delaying marriage would have only hurt both of us and waiting another four years could possibly have cost us our relationship.  We had already been together for four years and we had always planned on a short engagement.  (It took us a long time to reach the decision to get married, but once the decision had been made we wanted to implement it as quickly as possible.)
I think that Stanley's perspective is a great one to listen to and I agree with him to some extent.  I think the most important thing is to be honest with your future partner about your financial status and habits and to work to get out of debt/improve your situation.  If you are comfortable with working together toward that goal, then I don't think it's necessary to delay marriage.
What do you think of the rule/suggestion to get out of (bad) debt before marrying?  Did you start your marriage with debt, and did it bring you closer or drive a wedge between you?  What financial or other habits did you consciously change to prepare for marriage?
photo from Aizlyne