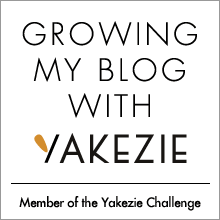 Two weeks ago I wrote that I had become a Yakezie challenger and I gave my Alexa rank, but I didn't provide any details for those of you who are unfamiliar.  Today I'm rectifying that because I can already see how being part of the Yakezie network has benefitted this blog!  You can see our newly-installed Yakezie badge in the sidebar.
Yakezie is a network of personal finance and lifestyle bloggers.  Part of the purpose of the network is to increase all of the sites' popularity (as measured by the Alexa Rank) and part is to develop relationships with other bloggers.  For me, the latter is the more important.  Blogs bidding to enter the Yakezie network go through a 6-month challenge before they can gain entry.
The requirements of the Challenge are to (as listed in the submission guidelines):
1) Install the Alexa toolbar.
2) Write consistently 2-4 times a week for 6 months.
3) Install the Yakezie badge.
4) Announce on your blog that you have joined the challenge.
5) Selflessly promote others.
Writing 2-4 times per week was already my plan – I started with 3 PF posts per week (Monday, Wednesday, and Friday) and have now added Sunday wrap-ups where I promote others by linking to posts that I liked.  (I don't care if they are in the Yakezie network or not, though.)  The Yakezie-specific tasks are simple to add.
We are asked to install the Alexa toolbar because the toolbar is how the data for the Aleza ranking is gathered.  This is of course only one way to assess popularity, and I'll be keeping an eye on some of the others as well.  Here at the start of building this blog Alexa is a fun one to watch because it has such granularity (millions as opposed to 10, for instance), so it drops quite fast.
The first time I checked my Alexa Ranking (2/7/2012) it was 3,721,125.  As of today I have CROSSED THE ONE MILLION THRESHOLD!  I watched my rank drop like a rock after I posted a few times in the Yakezie forums and have gotten a lot of visits and comments from other Yakezie members – thank you!  The comments are my favorite part so please keep them coming!  I love commenting on other PF blogs as well and getting into conversations.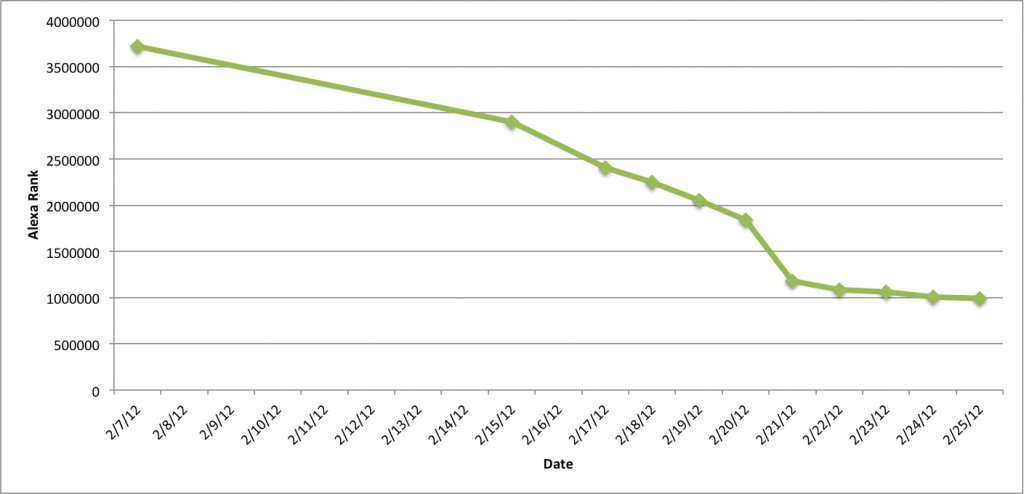 I'm looking forward to starting more relationships with established PF bloggers as well as new ones!  Honestly, I don't even pay attention to whether or not another blogger is associated with Yakezie but I'm glad the network has helped me find more and more blogs to read.
Filed under: blogging · Tags: Alexa toolbar, progress graph, Yakezie Challenge