When I started graduate school and was on my own for the first time I decided it would be useful to have a credit card. I searched around and chose the BP Chase Visa rewards card because 1) there are BP gas stations everywhere in Durham, 2) the card was very positively reviewed, and 3) the cash back rewards were the best I could find for my needs. The card offered 5% back on gas, 2% on dining and travel, and 1% on everything else. Emily and I currently have three rewards credit cards, but the BP card has remained our primary.
As this was my first credit card, I realize I have become weirdly attached to it. When I first got the card it had a very low credit limit – so low that when I bought my desktop computer I couldn't fit the whole purchase on the card and had to put part on my debit card. Every six months or so I would get a notice that my credit limit had been bumped up slightly, which gave me a little sense of pride. I feel that my credit limit increases have marked my journey as a financially responsible person. Needless to say, I've been very happy with the card.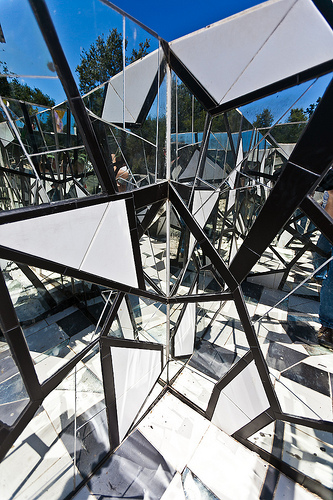 Unfortunately, we received a letter from Chase a little while ago that said there would soon be "Exciting new ways to earn and redeem" rewards for our card. The letter included phrases like "you'll enjoy a new rewards program", "earning is easy," and "enjoy 2 ways to redeem." Normally, the word "unfortunately" doesn't belong alongside these positive phrases, but this letter was Chase's way of telling us that they were drastically cutting our rewards program. In my opinion it's bad enough that they were cutting our rewards, but to add insult to injury they seemed to want us to be happy about it. They also explained the new rewards in such a complicated manner so that it wasn't obvious whether our rewards had changed or we were just getting a new way to redeem the rewards.
At first glance, the main difference between the new rewards program and the old one is a new way to redeem the rewards. In addition to applying the cash back rewards to your credit card statement you can redeem the rewards at the pump as you are buying gas. To accommodate this new redemption process, all of the rewards gained are in terms of "cents per gallon"  (CPG) rebates instead of straight percentages. For example, if you accumulate 15¢ in CPG rebates and you fill up for 10 gallons of gas you get save 0.15 CPG * 10 gal = $1.50. Note that rebates are good for a one time fill up on up to 20 gallons of fuel.
Let's take a look at the new rewards for purchases at BP. For every $100 I spend at BP I get 15¢ in CPG rewards. If I filled up for 20 gallons of gas every time I filled my tank (the max amount of gas rewards can be applied to) I would get 0.15 CPG * 20 gal = $3 or 3% cash rewards for gas purchases. Since our gas tank only holds about 13 gallons the rewards come down to about 2% for our car. Even worse, I would only accumulate rewards on the price of the gas after the rebate had been applied, not on the full price of the fill up as we currently do. If I'd rather apply my rewards to my statement credit instead of redeeming them at the pump I would get $15 cash for every $1 in CPG rebates I had accumulated. That means that for every $100 spent we get 0.15 CPG * ($15 / 1 CPG) = $2.25 or 2.25%. (Does anyone else think that I shouldn't have to do unit conversions to figure out my rewards?) Therefore, you should redeem rewards at the pump if you buy at least 15 gallons, and if not apply them to your statement credit. In the same way the rewards for non-gas purchases go down to 0.75%.
Therefore, our rewards have now shrunk from 5% gas, 2% travel and dining, and 1% everything else to 2.25% gas and 0.75% everything else in exchange for being able to redeem rewards at the pump. In light of this, Emily and I have decided that we aren't going to be using our BP card much any more, which means we won't be buying BP gas preferentially. I can't believe BP and Chase are really trying to get away with reducing our credit card's rewards by announcing a new "feature." Do they really think customers will not notice that they are losing rewards overall? This is made worse by the fact that many users' rewards will be worse if they apply them at the pump (the new exciting method) instead of to their statement credit. I understand that BP/Chase probably needs to cut the rewards for financial reasons, and I would accept if they just told me the rewards were being lowered. But do they really need to insult their customers' intelligence by acting like the change is a positive thing? I wish companies could just show their customers some respect.
Have your rewards ever been cut?  How did the company handle it and how did you respond?  Have you received any intentionally confusing material from your financial institutions?
photo from kbaird
Filed under: credit cards · Tags: BP, car, cashback, gas card, rewards