I've decided to start giving regular updates as to how the blog is growing.  Because I'm doing monthly spending reviews on or just after the first of the month, these blog updates will be just after the 15th of each month for the second half of the previous month and the first half of the current month.  Statistics are for over the last month or on May 15, 2012.
I don't have any goals for the blog right now, and we haven't monetized yet.  I'm not really sure how to set goals or what expectations to have for growth.
People who listen to us:
RSS subscribers: 53
Twitter followers: 33
Facebook fans: 0
I actually just launched our Facebook page two days ago, so please like it (and thanks to you who already have)!  You can also now find our Facebook page and Twitter feed from the site (right column).
Rankings:
Alexa: 123,118
Google PR: 2
MozRank: 3.55
Some Google Analytics statistics: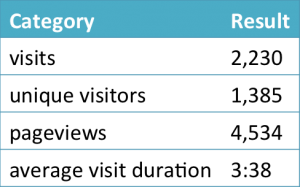 Most viewed posts:
1) The Slippery Slope of Separate Money
2) How Do You Decide How Much to Spend on Groceries?
3) How Do You Decide What to Spend on a Wedding Gift?
Funny Searches:
"2012 frugal iphone 3g" – Oxymoron?  I've never mentioned the iPhone on the blog (this is the first time) as I always say "smartphone."  No idea how this found the blog.
are you attending our reunion – Indeed I am.  Although it's probably a union.
explain $15 statement credit for every $1 in cents per gallon rebates with the bp card – I can understand your confusion.  Luckily my husband did the math.
food and clothing purchased with separate money? divorce – Yes, buying food and clothing with separate money results in divorce 100% of the time.
is it awkward if your guests can see you transition a ceremony space to reception – Sooooo awkward.  Your wedding will be RUINED!
see rank pretty sweet – ???
wine and cheese personal finance – I'm down with the cheese but not the wine.
What do you think my goals should be – a certain threshold or percentage growth each month?  How do you set your blogging goals?  What have you funny search terms been this month?
Filed under: blogging, month in review · Tags: blog statistics, blogging goals, funny search terms, Google Analytics