In November I realized I was being rather irresponsible with our family finances because I didn't know what the deductible and maximum out-of-pocket amounts were for our employer-sponsored health insurance.  We don't get a choice of plan and seem to change insurance companies yearly so I hadn't checked our coverage for our current plan (Blue Cross Blue Shield of North Carolina).  I downloaded the 86-page pdf booklet for our plan and found what I was looking for.  It was actually a rather interesting document so I skimmed through all of it and read some sections in detail.  At the end I found an ad for several wellness incentive programs offered by our plan, the most immediately relevant of which was Blue Points.
I registered for Blue Points and checked out the program.  Basically, you record healthy behaviors and are rewarded with points that you can redeem for gift cards or merchandise.  Right when I signed up I took the Wellness Assessment and got 1000 points.  (The conversion rate is 1 point for $0.01.)  There are four other ways to earn points, two of which involved no significant behavior change on my part.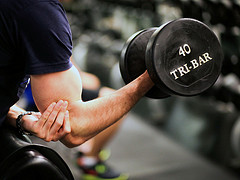 Physical Activity: Every day that you record that you exercised for 30 minutes or more you get 26 points.  I work out between 0 and 6 times per week.
Eating fruits and vegetables: If you eat at least 5 servings of fruits and/or vegetables at least 5 days per week, you get 100 points.  Since a serving is only half a cup, I have no problem meeting this minimum every day.
I already record my eating and exercise fastidiously so entering those habits into the website has required little additional effort.  At first I thought I would just visit the site once per week, but it's so quick that I just do it daily.  Including the Wellness Assessment, in four weeks I have earned 1582 points, which I could redeem now for $15.82.  Considering that each daily log takes about 15 seconds, that works out to $39.91/hr (not including the assessment).
I'm pretty into found money because my income is strictly limited by my position as a graduate student (no second jobs allowed, not much chance for raises outside of cost-of-living).  Because this required so little additional effort on my part I think it's worth it for earing a few tens of extra dollars per year.  And if it works for someone as an incentive program that actually causes behavior change, so much the better!  If you maxed out your incentives perfectly in every category you could be rewarded with $166.90 in a year.  I'm anticipating something more like $75-$100 – which I don't think is bad considering it only takes a couple minutes per week of my time!
From some light Googling I saw that many other BCBS states offer similar programs, and I would imagine other major health insurance companies have something like it.  There is also some kind of promotional program associated with Blue Points so I'm keeping my eye out for promotional codes.
Does your insurance company offer incentive programs and if so do you participate?  Do you think the incentives are worth your time?  Did you change your behavior at all?
photo by Greatist
Filed under: food, found money