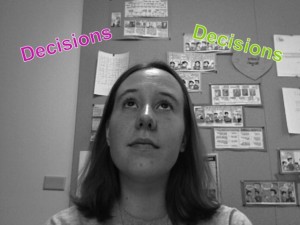 Over the past few weeks we have had a few financial opportunities and decisions crop up and we're taking our time trying to decide what to do in each situation.  I'd like to take this post to share with you what's been going on with us.
Wedding
We were invited to a wedding in Chicago (black tie!) at the end of June and we've been going back and forth about whether to attend.  The wedding itself should be really nice and fun – the bride and groom are friends from Durham and several other friends are traveling there.  We also have never been to Chicago so it would be an opportunity to take a long weekend to see the city.  One of our very good friends from college lives there now so I think we would have a nice visit with her as well.
This is what we've been thinking for the major expenses of attending any out-of-town wedding:
travel to event – flights are about $300 each, so we are planning to drive (at 13.5 hrs this is stretching our limit)
travel at event – we'll probably have our car, but even without it I think we'll rely on public transport, which shouldn't be too expensive
lodging – unfortunately we can't stay with our friend for most of the time, so we need to find another place to crash or a cheap motel
food – this might be a big one as we probably will have to eat out a lot
attire – Kyle needs to buy a tux and I have a dress
gift – normal spending
entertainment – we'll have to create an itinerary/budget, but this shouldn't be too major
We need to RSVP this week.  I was leaning toward going because attending weddings is such a priority for us, plus the trip can have multiple purposes and we're only taking one other small vacation this summer.  However, when I estimated our cost for the trip I came up with $1500, which is way too much, but Kyle's lowball estimate was $750, which is maybe doable.
DSLR
Two weeks ago, our friend emailed us to let us know he and his wife are selling their gently used DSLR and they wanted to know if we would like to buy it.  They were asking $600 for a $750 (new) camera.  After going back and forth for a week, I decided to decline their offer.  I really, really want a camera but I felt like I hadn't earned it yet.  I hadn't sweated through the research to determine what would meet our needs and I hadn't yet sacrificed to save up the money.  We would have had to take the $600 from our nest egg, and we're already in the red in that account (more on that next).  I thought by the time we had saved up enough money the next round of models would be out so we would end up with something newer than if we bought now and paid ourselves back.
Gift
Kyle and I received a very, very generous anniversary gift just days after I turned down the camera.  Last year when we received a comparable amount of money for our anniversary and our birthdays we put the money toward new laptops that we had planned to buy in August.  It was an easy decision because we already had the goal to save up for the laptops and all our found money was going there anyway.  This year we don't have a similar plan in place, so we weren't prepared to have to decide what to do with this kind of gift.
The most boring and responsible option: We owe $972.16 to ourselves for money we borrowed from our nest egg (about 25% from earlier this year and the rest from our first year of marriage).  So we could put the money there and rid ourselves of that stress!
The reasonable option: Put it toward a camera.  We had planned to buy one in the next couple years anyway so this would just accelerate the schedule.  We wouldn't do it right away because we would need to research our options and continue saving but it could happen sooner than planned.
Other possibilities:
1)  Upgrade my phone.  We have already picked out a company and a data plan, but we need $200 to buy the phone itself up front.  Even though I would be upgrading from a dumbphone to a smartphone, the plan itself costs half of what I'm paying now, so over two years we'll save money.
2)  We could use part of the money to pay for our Chicago trip for flights or a hotel upgrade.  Or we could just generally add it to our travel fund to use for our vacation later this summer or flights to a wedding in the fall.
3)  We are $800 from maxing out our IRAs this year.  It would feel good to get to that level.
New ideas that popped up with the gift:
Well Heeled recommended to me on Twitter that I consider taking a photography class in lieu of upgrading our camera.  After all, if you don't know how to use it, upgrading is pretty useless!  I found a 6-week class at our local arts council later in the summer that would cost $142.
Kyle's laundry list of electronics: iPad or Kindle, mic and audio interface.
We are so pleased to receive this wonderful gift.  It is a good reminder that we should have a plan in place for found money year-round.  Well, my plan is always to shove it into our nest egg – that's what I've been doing with our tax refunds, credit card rewards, and money left at the end of the month when I zero out.  So maybe I should go with my first instinct and get the weight of our self-loans off our shoulders!
Have you had to make a difficult decision regarding attending an event or purchase recently?  What is your current plan for found money?
Filed under: choices, spending, travel · Tags: Chicago, gifts, wedding season