I'm afraid of drifting through life – of letting time pass without accomplishing anything.  Sometimes I feel like we're drifting financially while we're in graduate school because we don't have several major monetary objectives toward which we are working.  While I think goal-setting has been a bit overblown and doesn't necessarily work well for everyone, I believe we all need to have a vision for our lives and to take steps to realize those visions.
If you have one or more visions for what you want your life to be like, consider whether or not you are making any progress toward realizing that vision.  If you aren't and would like to be, there are three simple (but perhaps difficult!) exercises you can go through to encourage yourself toward your vision.  This process can be applied to many areas of life – spirituality, family, health, career – but I'll give some financial examples (not from our life).
1)  Where do you want to be?
When you ask yourself where do you want to be, I'm necessarily saying that you have to imagine yourself 50 years in the future and write down which beach you want to be lying on!  Perhaps a comfortable retirement is one vision you have in your life and that's a fine one to make sure you're working toward.  But there are other wonderful financial practices that create wealth and comfort that are also near-term applicable.  One step on the road to wealth would be to live within your means.  Two more are to save every month – perhaps for some big purchase like a house or vacation – or pay off debt.  A more nebulous vision may even be to feel less stressed about money.  The answers to this question will be very personal to you, but try to make them as specific as you can to motivate you.  If you are setting a specific goal, try to put a time frame on accomplishing it.
Example A: I want to tithe to my church and other charitable organizations.  I was to worship God by passing the generosity He has shown me on to others.
Example B: My wife and I want to start our family and feel secure that we'll reasonably be able to afford our baby's first two years.  We want a $20,000 savings fund for possible birth expenses and to prepare to spend an additional $1,000 per month on childcare.
2)  Where are you now?
You can't create a plan without an honest assessment of where you stand.  For some people, the assessment will be of their savings – if starting a new goal, maybe the savings check is quick as it is $0!  Tracking your income and spending closely is another way to assess your monthly flow of money, if that is important for your goal.
Example A: I throw a few dollars in the offering plate when it is passed each week, and I sometimes respond to solicitations for donations.  I estimate that I give about $40 per month to my church and $200 per year to other causes, which less than 2% of my income.
Example B: We have $10,000 in an HSA that we don't anticipate using and could easily cut $500 from our monthly budget, but it isn't obvious where the next $500 will come from.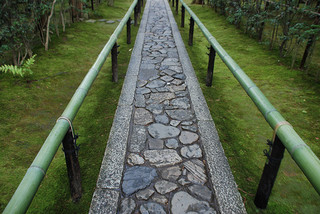 3)  How do you get from here to there?
The fun part about this step is that there are so many different ways for you to realize your vision or goal!  For a simple savings goal, you could set up an automatic transfer to a savings account for the amount you need to save each month to reach your goal by your target date.  Goals that involve dedicating new money somewhere will necessitate a cut in spending or an increase in earning, and there are so many options for accomplishing both!  If your vision is quite vast, you might need to establish several paths with short- and long-term objectives.
Example A: Next month, I will give 3% to my church and increase my donation by an additional 1% each month.  I'll accommodate this changes over the next few months by slowly cutting my grocery budget by shopping at different stores, packing a lunch for work nine out of ten days, not buying any new clothes.  When my lease is up in three months, I'll start sharing an apartment with someone in my small group, which will free up the remaining 5% at least.  I'll set up automatic withdrawals so that 8% goes to my church and 2% goes to a savings account for future charitable donations.
Example B: We'll focus on finding the additional $1,000 in our budget first, as that will prepare us for the childcare as well as get us on track for saving the additional $10,000.  We'll implement the easy $500 in budget changes next month, then find additional savings as fast as we can.  We will also find side hustles that will be sustainable after the birth of our child to make up the rest of the $1,000/month.  Everything we save or earn beyond our current budget will be put toward savings for the baby.  We should be financially prepared to conceive in 10-15 months.
What financial visions do you have for your life?  Do you have a path laid out?  Which is the most difficult step for you? 
photo from wilhelmja
Filed under: goals, values · Tags: baby, goal setting, savings, tithe