A few weeks ago we received the alarming news that our leasing office is raising our rent from $1005 to $1065 per month.  Five years ago, when Kyle first moved in, the rent was closer to $900 per month and last year, the increase was only $5 per month, so overall they have been moderate until this year.  While we are extremely happy with our apartment and will attempt to negotiate this increase, we decided it was time to take a look around Durham and see what is available and at what price ranges.  As we have worked and worked our budget to wring all the extra money out of it that we're willing to, it seems that we really have to attack our fixed expenses, and chief among those is rent.
Because of our years of experience living in Durham, it was easy to narrow down to a few geographic areas to consider based on our commute time to work and church and the types of housing available in the neighborhoods surrounding our school.  One thing we love about our current apartment is its proximity to a certain highway, so we are only looking at places off a couple nearby exits from that highway.
Another quick way to narrow is by number of bedrooms, but we're actually waffling on that.  Surprisingly, there is a lot of overlap in the price ranges of these places – a 1-bedroom apartment in our current complex is about as expensive as a 2- or 3-bedroom townhouse in many other neighborhoods.  I'm not sure why, but it seems overall that townhouses, even those available within complexes, are much less expensive than apartments.  Two bedrooms (almost 1200 sq. ft.) has been a nice amount of space for us these last two years, but we could probably downsize without too much strain on our marriage.
The other consideration for the number of bedrooms and bathrooms is our uncertainty about where Kyle will be living next year.  If he leaves the area, I'll have the choice of taking a roommate if we are living in a 2- or 3-bedroom, living by myself if we are living in a 1-bedroom, or moving.  Even though Kyle will be making more money in this scenario, we'll have the additional travel costs of trying to see one another as frequently as possible so it would still be prudent to both have roommates to keep our living costs down.  So downsizing to a 1-bedroom would be OK, if perhaps a bit tight, for one year until Kyle (possibly) leaves, but then I would probably need to move again. Getting a 2- or 3-bedroom now, as long as it's affordable, would save us the possible cost of moving again in a year and I could easily take a roommate whenever Kyle moves.
I made a list of all the aspects of our apartment that we love.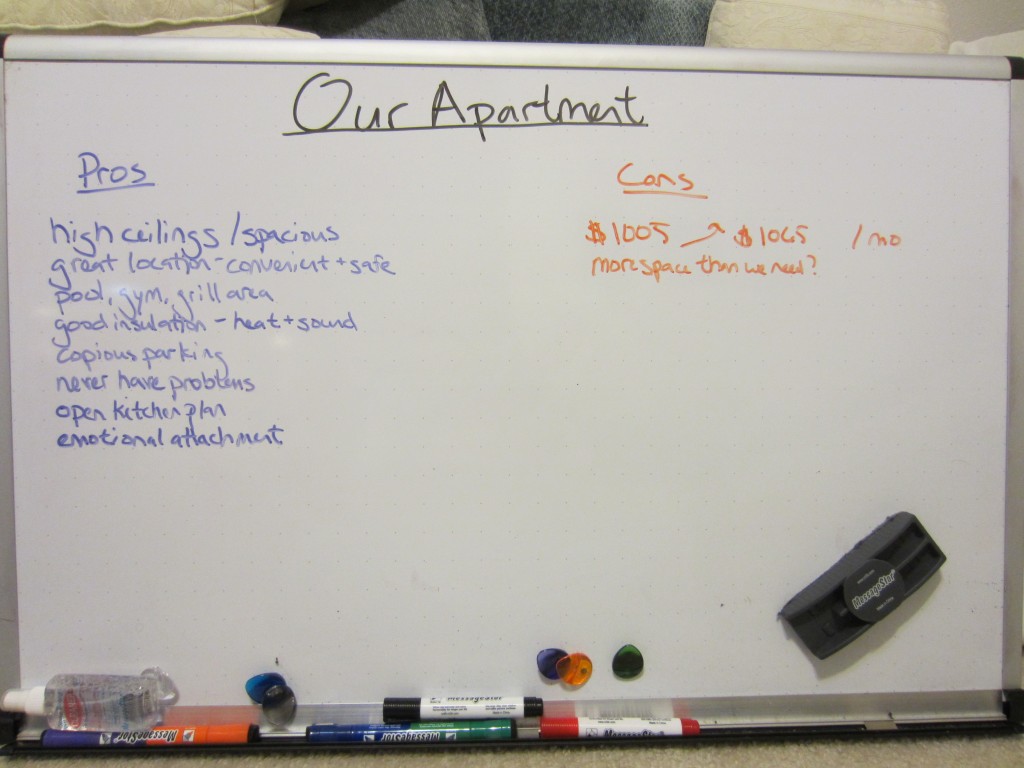 We have viewed two townhouses and are making an appointment to view another this week (same layout in two locations).  Here are the side-by-side comparisons of our current apartment, my last apartment, and the four other properties on our radar right now.

The major aspects that we would be losing out on if we move (in exchange for lower rent) are
the nice new and spacious feel
possibly some shared amenities, definitely a gym
tons of parking
perhaps some location convenience
We also might gain another half-bath in certain townhouses and possibly some square footage.  It looks like safety isn't going to be an issue according to the Durham crime map no matter where we move (we have basically eliminated SS as a possibility) so that is reassuring.  We consider where we live now to be very safe.
I'm happy with this table as it shows us more clearly exactly what we're trading for the extra $150-200 in rent.  Just from what I have listed, I don't think those aspects are worth the money, but there are two more intangibles – the stress of moving and the emotional attachment we have to our current apartment.  The stress of moving is easy to understand, and there would be some cost associated, but I think moving itself would be manageable within a few days.
As for the emotional attachment, this apartment is where we started our married life together.  Kyle proposed to me in the room that is now our bedroom, and we spent our wedding night there as well.  I hadn't planned on walking away from the physical reminders of those events before we needed to leave the city entirely.
Kyle is going to try to negotiate our rent this week.  Right now it's slated to be only $30/month below the list price, which is insulting.  When he first moved here he was about $150 below the list price and I would think saving them 5 years worth of turnover costs would be worth something!
What attributes of your living space are important to you?  Do you consider different properties quantitatively or qualitatively?  How much weight do you put on staying in a home that holds special memories?
Filed under: housing