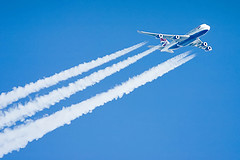 Last week one of my relatives told me that he was considering canceling a flight within 12 hours before take-off – a flight that had been purchased only a week or two before.  I know that this relative has bought and canceled flights several times in the past as his whims change – and these flights are not purchased with credit card rewards but with real money.  I was very surprised he was considering doing this again as this behavior has cost him hundreds of dollars or more over the past few years.
I have never canceled a flight or backed out of a ticket in any way (though I did miss a flight once).  I don't purchase plane tickets until I am fully committed to traveling on those dates and I usually track prices for a month or more before I buy.  This often results in us not RSVPing to weddings until the requested date because we won't buy flights until we're 100% sure we have the money and vacation time to make the trips.
I think the only reason I would cancel or change a ticket is if I or someone in my party were physically incapable of flying (very ill, perhaps) or if there was a family emergency of some type, and neither of those situations has yet occurred.  Purchasing a ticket is a big commitment for me and I wouldn't back out of it lightly as my relative has, not only because of the associated penalties.  But I'm sure others may feel differently or have had other experiences.
(If you are prone to canceling flights or might ever have to, check out this recent post from Bible Money Matters on how to minimize penalties.)
What's your flight-cancellation story?  How far would you go to avoid canceling or changing a flight?
photo from FrancoisRoche
Filed under: travel