Kyle and I spent last week vacationing in the Outer Banks with my parents and siblings.  My family used to rent a beach house for a week every summer, many times in the Outer Banks, but we haven't been on this type of vacation together in over 10 years, so it was rather a blast from the past.
My parents had no expectations of financial contributions from us for this vacation, which was wonderful – this was our birthday gift from them!
Lodging
My parents paid for the house (I think the cost was between 1 and 1.5 k$), which actually slept 11 so there was plenty of room.  Plus, there was a hot tub!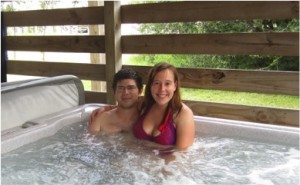 (Side note: The uppermost level of the house had the living and dining areas, the kitchen, and the master bed and bath.  It had a wonderful square layout, and Kyle remarked that if we had been able to find a 1BR apartment with that square footage – I estimated 800 sq. ft. – and layout we could have downsized with our current move.  If the top floor of a house could have that layout, why not an apartment?)
Food
My parents bought most of the groceries in their home area so they could minimize trips to the grocery store in the Outer Banks.  We brought a few grocery items with us that we had available at the time that we left.  We didn't go out for a meal even once with my family (I guess they're superfrugal too!), but ate well (and all day long) as my brother cooked for us several times and we cobbled together the rest of our meals individually.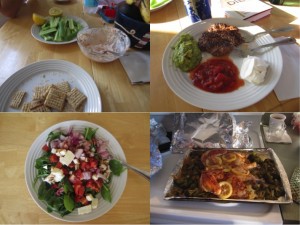 My contribution to the family food – flaxseed meal pizza.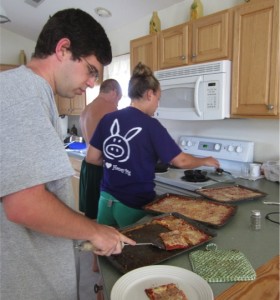 Kyle and I did go out for brunch the day that we drove back to Durham as we had packed up all the remaining food the night before to prepare for my parents' departure early in the morning.  We went to a cute, well-reviewed breakfast place and spent $22.75.
Entertainment
The great thing about a beach vacation is that your entertainment is built-in: the beach!  Kyle swam and boogie boarded while I read my library books in the sand.  In the evenings we played games (which we brought from home), watched Breaking Bad on Netflix (we brought out Roku with us), and attempted a puzzle (provided by the house).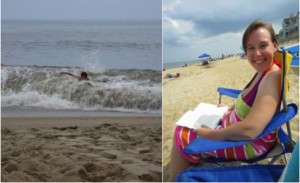 The only entertainment we paid for was to visit the Wright Brothers Memorial – beautiful, educational, and thought-provoking!  Did you know the Wright Brothers were self-funded?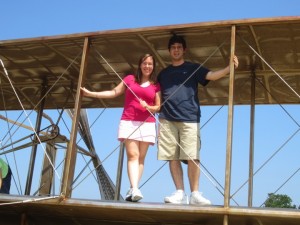 Kyle also bought a football and Frisbee to play with on the beach, which I'm hoping our budget leftovers from this month will cover so we don't have to draw it from our Travel account, since we'll be able to use them beyond this trip.
Transportation
We spent $66.38 on gas on the 7 hour round trip.
Total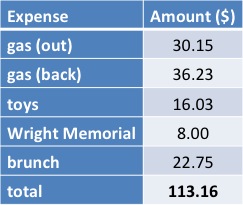 Is It Worth It?
I don't know how eager I am to take another vacation paid and planned for by my parents.  I mean, a week at the beach for $100 is an amazing deal.  I'm totally grateful for my parents' generosity in giving us this gift, but I think Kyle's and my next vacation should be just the two of us.  I'd like to set our own agenda and have more alone-time.  I enjoy visiting my parents in my childhood home over weekends so maybe we'll just focus on doing that more often.  Maybe once we have kids we can take another vacation like this with them – although I hope by then we'll be paying our own way!
How was your summer vacation? Do you vacation with your parents and if so do you pay for yourself?
Filed under: travel · Tags: beach, family, North Carolina, vacation