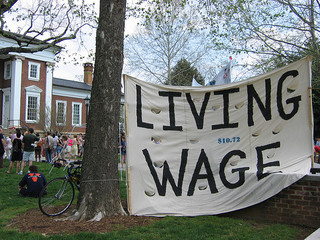 In my posts on saving for retirement last week I threw the term "living wage" around a few times.  While I encouraged graduate students to save for retirement, I didn't think that should apply to students being paid below a living wage.  But what exactly is a living wage and how to you determine what it is for where you live?
from Investopedia:
"A theoretical wage level that allows the earner to afford adequate shelter, food and the other necessities of life. The living wage should be substantial enough to ensure that no more than 30% of it needs to be spent on housing. The goal of the living wage is to allow employees to earn enough income for a satisfactory standard of living."
Jacob at My Personal Finance Journey linked to a living wage calculator that I used to look up the living wages for the two places I've lived since I've been paying my own bills.
For Durham, the annual living wage for one adult is given as $19,316 and for two adults $29,133.  Our stipends were about 25% above the single-adult living wage and together are about 75% above the two-adult living wage.
Here are two plots of the monthly spending in dollars expected by the living wage calculation vs. ours.  I added a "savings" category to make the "other" category reflect spending and giving only, but I guess the living wage calculation doesn't include savings.
The one-adult reference spending is in green and my spending from 2009 (the last full year I was single) is in purple.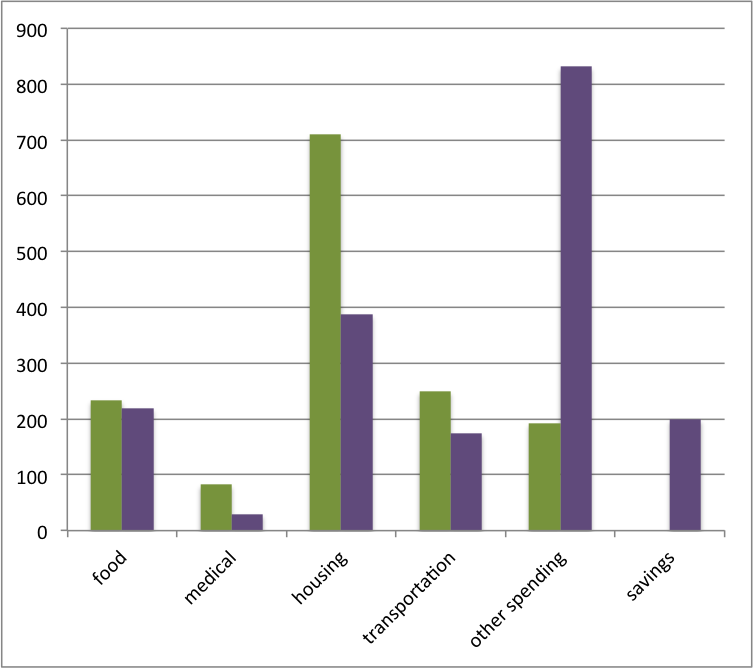 The two-adult reference spending is in green and our current budget is in orange.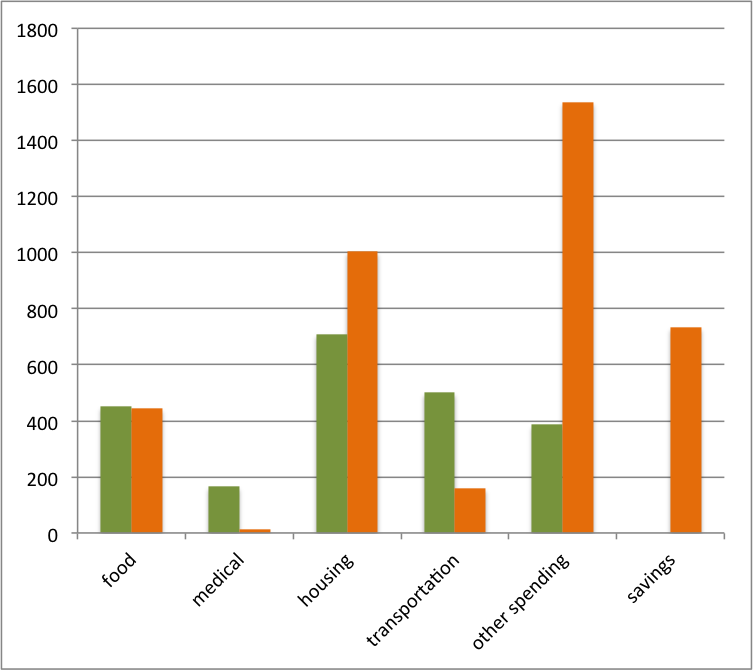 I just included rent in "housing" although perhaps utilities should have been in there as well.  What jumps out to me is that the per-capita expected spending stays exactly the same between the single-adult and two-adult households in all categories (so no economies of scale) except for "housing."  The housing spending in both cases is $710, which from what I know of the Durham market is a low-priced one-bedroom apartment.  When Kyle and I lived apart we each lived in 2BR apartments with roommates, so our housing cost did not drop after we got married.  In this area the living wage calculation expects two to live more cheaply than one, but for us one can live more cheaply than they expected.
We're right in line with the living wage food category (for us that's groceries, eating out, and our CSA subscription) and lower on medical costs (we don't pay premiums for our health insurance).  The big drop in transportation spending between me alone and our married budget is consolidating to one car.
So I think I was incorrect in saying that graduate students should be able to save 10% if they are being paid a living wage.  I think in Durham one's cost of living can be quite a bit lower than what the living wage assumes, but there are also a lot of other fairly necessary costs that would all have to be covered in the "other" $193 like utilities, clothing, travel, entertainment, and gifts, which I think is unrealistic.  Also, the individual wouldn't have room to be paying off debt, except perhaps a small amount of car debt.  To fit in another 10% to retirement savings (and 10% to giving), the individual would have to really set himself up for low-cost living (sharing a house or apartment, paid-for car, bare-bones entertainment) and that's not realistic for everyone.
Glancing at the living wage calculation and my budget from Montgomery County Maryland, I see that I was being paid about 5% less than the living wage but my housing costs were less than 50% of what they accounted for in the calculation, so that's where I was able to find my 10% to save for retirement.  I'm not sure why these calculators think that someone making that little money would live without roommates.
If you are earning a low salary, I encourage you to look up the living wage breakdown in these various categories and see how your spending compares.  This also might help people with higher salaries create a stripped-down emergency budget in case of job loss.
How does your salary compare to the living wage in your area?  (I am particularly interested in hearing from graduate students!)  Do you think the estimates are high, low, or just right?  If you are being paid above the living wage but not saving for retirement, why not?
photo from katerw
Filed under: budgeting · Tags: calculator, comparison, living wage, roommates, spending