We did a terrible job staying under budget this month – check the bottom to see if it was a pass or fail (it was close!).  Our lack of control in the grocery store was to blame again.  Our targeted savings accounts saved our behinds, too, as our car failed its yearly safety inspection and we had to make some unexpected repairs, but our Cars account was up to the task.  Kyle is, I swear, incredibly close to buying a smartphone but it hasn't happened yet, but he hasn't yet pulled the trigger.
The Everyday Budget
INCOME: Two paychecks as usual plus Kyle's additional income from October, which I'm not going to slice up until December.
SAVINGS: Same as ever!
GIVING: 10% as usual.
Rent: Rent is still $895; this was the last month that we saved our rent savings to repay ourselves for our move.
Cell Phones: We paid my usual rate of $35 for my dumbphone.  We also paid for my new smartphone to reserve it ($277.78), so I'll start paying the $19/month rate as soon as it arrives.  Kyle found an old dumphone and SIM card in our house somewhere and started using that on a prepaid basis until he decides which smartphone to buy.  (Can you believe it's been nearly four months since I washed his phone?!  How does he survive?)  This month he spent $10.71 on that phone.
Internet: Our new rate for internet is now just below $40/month because our cable company upped the modem rental price.
In terms of our discretionary spending: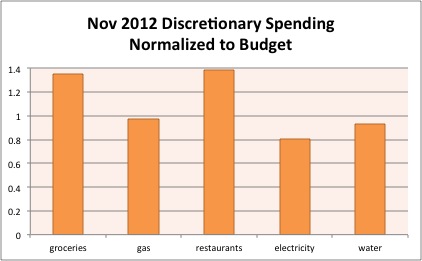 Groceries: Another month of being way over budget for our groceries!  I wrote last Friday about the strategies we're committing to for this month and next to get this spending under control.
Gas:  At least we had a normal month for gas, plus we're going into December with a full tank!  I reimbursed our gas from our Thanksgiving trip.
Restaurants: We only ate out twice this month for real but it was fairly expensive.  One meal out was over $50, which we're still perplexed about as we didn't order expensive dishes!  Our second meal was just a casual lunch and the third one was a $5 donation for a fellowship dinner.
Electricity and Gas: Under budget, here!  Next month is the start of the real test as we are now running the heater basically every day.
Water: This month we paid our initiation fee, deposit, and two months of water bills.  The actual bill part summed to less than what we budgeted so that is what is reflected in the graph, and the other money was reimbursed from savings.
Every month we also have some random other transactions that aren't covered in the budget but aren't supposed to be taken out of a targeted savings account:
Library late fee of $6.  Oops!  I have many excuses, but it boils down to me not being on top of things.
Kyle went to Home Depot for a couple small items this month and spent $16.01.
Spending Out of Targeted Savings
Woah!  This month we spent $2,201.05 out of our targeted savings accounts – that's half our gross income for the month!!
Travel and Personal Gifts
The major expense in this category this month was our flights to CA for Christmas ($625.20).  We also reimbursed ourselves $60 for the gas for our Thanksgiving trip.
Cars
We had so many expenses for our car this month!  We paid six months of car insurance for $405.47.  We spent $30 on our yearly registration and $29.75 to get our car inspected – it failed, so we paid $523.00 for new tires and an alignment.
Entertainment
We bought two tickets this month – $24 to see my friend's handbells group perform a Christmas concert and $10 for a ticket to a basketball game at our university.
Appearance
I spent $75.35 on three items of clothing and $50 on a haircut.  Kyle complained that I gobbled up all the money in this account before he could get to it. J
Medical
no spending this month
Electronics
I ordered my smartphone this month for $277.78.  We didn't have enough in this account to cover the full amount, so we used $120 from here and the rest from our Nest Egg.
Charitable Giving
We donated 10 Thanksgiving meals to one of our local homeless shelters.
Nest Egg
We had the remainder of our moving expenses come out of this account this month – the refund we got from our cable company, the installation and initiation fees for our water, and our driver license address change fees.  We added our final month of rent savings to this account.  We took $157.78 from this account to pay for my new smartphone.  Finally, we decided to open a new savings account to sequester some money that we will need to pay in taxes but that wasn't withheld from our paychecks, so I moved $13.61 that had been in this account to that new one.
Taxes
Funded this account with the $13.61 transferred from our nest egg.
Budget Adjustments
Finally, finally, Kyle and I sat down to overhaul our budget.  Well, I had hoped it would be an overhaul, but things stayed mostly the same.  Our rent came down, of course, and we increased our savings to our Cars account, and we just made a few other tiny tweaks.  I'll post the new budget this week.
Bottom line
We squeaked through in the black again this month with $6.64 in surplus, which is going into our Travel and Personal Gifts savings account (probably to pay for Christmas).
For those of you who zero out, what was your closest month (either way)?  What area of your budget are you struggling most with?  What was your worst month in terms of being hit with large irregular expenses?
Filed under: month in review · Tags: budget, car repairs, groceries, spending