I put out a call on Yakezie for guest posts while I prepare for my preliminary exam, and Kylie Ofiu volunteered a post for today!  Kylie is an author, international public speaker, writer, financial mentor and mother of 2. She shares ways to make and save money on her blog KylieOfiu.com as well as her goal to become a millionaire by 30.  Thanks Kylie and I hope you all enjoy the post!
In the last 2 months my washing machine, microwave, lounge and dryer all died. My fridge got broken, but is still useable and in the house I just moved to my mattress does not fit up the stairs to my room, so I've had to work something else out. All these things needing replacement at once was quite expensive. Having moved twice in the last 3 months and in the middle of a nasty divorce and custody battle my savings had pretty much dried up.
When I tried to work out a plan of action there were a surprising amount of options.
Repair or replace?
Firstly decide if it really needs to be replaced or if it is more frugal to repair. For my items, replacement was needed. If you are handy often a quick search online will help you uncover the problem, how easy it is to fix and often the cost of fixing it.
Buy new or used
Items lose value the instant they are purchased. There are many items that can be bought at auctions, online or in newspapers which were bought but never used and still have a warranty but are a fraction of the cost of a new one.
Alternatively, used items are often very cheap. You don't know how long they will last, if they have already had repairs or anything like that, but they can be significantly cheaper than buying new and if it is a quality item it could very well last for years to come.
When buying new
Depending on your circumstances you there are a few options – buying on an interest free plan, with cash or using a loan. A loan is the least advisable option because you will be paying interest on the items making them cost you a whole lot more.
Interest free usually still comes with an annual fee and there is not as much negotiation room as cash, but if you do not have the savings or the interest you would earn on your cash if kept in a high interest account outweighs the extra costs of not paying cash then it can be a great option.
Lastly, there is cash. As they say, cash is king. When you are paying with cash you have a lot more room to negotiate. For starters, retailers pay fees when customers pay with credit, so there is instantly room to drop the price. The discounts I have had for paying cash instead of credit goes into the thousands. I simply ask how much of a discount is there for paying cash.
Compare
No matter which option you use, make sure you compare prices, research brands and reviews of the items you want to buy online to ensure you get the best price.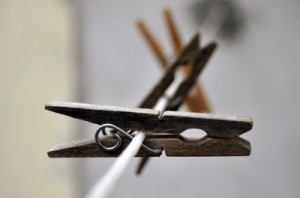 What did I do?
I looked at what I had and worked out what I really needed. I chose not to replace my dryer or microwave. I didn't use them a lot any way, I don't think using a microwave is very healthy and in Australia everyone has a clothesline in the backyard to hang clothes, so it is not uncommon or looked down on.
For my washing machine it still worked a little so until I could save the cash to replace it with the model I wanted I used it up until the point it stopped in the cycle, hand wrung the clothes dry, pulled the pipe at the back to drain it and hung my clothes to dry. They took longer to dry, but were clean. I also used friend's machines a little (at their insistence) and I could have used the local Laundromat if I wanted.
My fridge I continue to use slightly broken. It is not the seal and for now will keep going. As for my bed, I got 2 single mattresses to use on my king base upstairs and wrapped my king mattress in plastic to store in my garage. When I move again, my daughters will use the 2 new single mattresses and their current mattresses will be disposed of.
What do you do when you need to replace large items?  What would you have done in my situation?
photo from Free Digital Photos
Filed under: frugality · Tags: appliances, replacement