This will be my last funemployment report as I've decided to transition from being funemployed to being self-employed! I don't feel as comfortable putting all my self-employment goals online, though I do have both long-term and short-term goals for my business. Instead, I'll probably shift occasional reporting on my self-employment progress to the EPF newsletter. –>
I tried to keep my funemployment goals for mid-January to mid-April pretty minimal because I knew my full-time job and nearly-megacommute would take the vast majority of my time. I ended up working very hard and sacrificing my sleep and some social engagements to accomplish the goals that I was able to.
I was very cautious for this period to only set process goals and no outcomes goals. However, I still had some good outcomes, which I'll return to at the end of the post.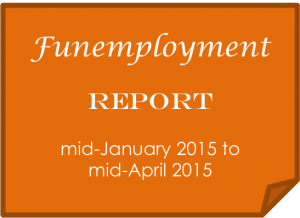 1: Pitch PF-for-grad students talk at 2-3 universities local to DC and one conference.

Grade: B
I pitched my talk to four local universities and was in conversation with two of them before things fell through. I didn't pitch any conferences during this period.
2: Pitch PF-for-prospective-grad students talk at 5 colleges.

Grade: A
I sent out pitch emails to the career centers at 6 colleges, but only one responded to my initial email.
3: Pitch PF-for-grad students talk at 5 universities.

Grade: A
I pitched my talk to six universities not local to the DC area. I ended up focusing on Los Angeles in particular. I got into conversations with people at each university, with mixed results.
4: Get Grad Student Finances online, including both the core PF content and the talks section.

Grade: A
Success! Both sites still need a lot of work but they are online.
5: Solicit Grad Student Finances content from 10 (former) grad student bloggers.

Grade: 0
I didn't do this during my fellowship period, but am working on it now. If you want to contribute content to GSF, let me know. If you have a blog, I'm happy to link back to related content.
Extra Money Paid in January to April
I didn't have specific income goals for my contract job while I was doing my fellowship, except that in each of the half-months before and after my fellowship I wanted to earn $500 (my goal when I'm totally available is $1,000 per month). I didn't expect to take many assignments in mid-January to mid-April, but just some ones that came along at a convenient time. I earned $645 in January, $262 in February, $180 in March, and $638 in April (so far).
This set of goals was all about pitching my talks, which I did furiously. All that pitching did generate some results. I took a trip to Los Angeles the week after my fellowship ended and gave two talks on personal finance, one for graduate students and one for prospective graduate students. They went very well. I also got partway into the planning process with two schools before they decided that the fall would be better timing, so those are two solid leads already for next semester.
What is your preference between process goals and outcomes goals? How do you stay accountable for your goals?
Filed under: funemployment · Tags: goals, self-employment